Mums: have you compared the Haakaa Ladybug milk collector to the Haakaa Regular pump? Which one is better for you and your baby? Let's look at both closely and help you make a well-informed decision.
We'll dive deep into each of these two fantastic products, examine their features side by side, and compare reviews from other mums who have tried them out.
Here's what we'll cover,
Breast Milk Collectors and Breast Pumps - The Basics
Breast milk collectors and silicone breast pumps are fantastic for capturing leakage, letdown and the occasional extra breast milk, often while breastfeeding your baby on the opposite breast.
They aren't as heavy-duty as electric breast pumps but are great for quick and quiet collection at home or on the go.
Two top-rated products in Australia are the Haakaa Ladybug milk collector and the Haakaa Silicone Breast Pump.
We look at each in turn and then compare them to help you choose which is right for you (or if you'd like to use both in different situations).
Haakaa Ladybug Milk Collector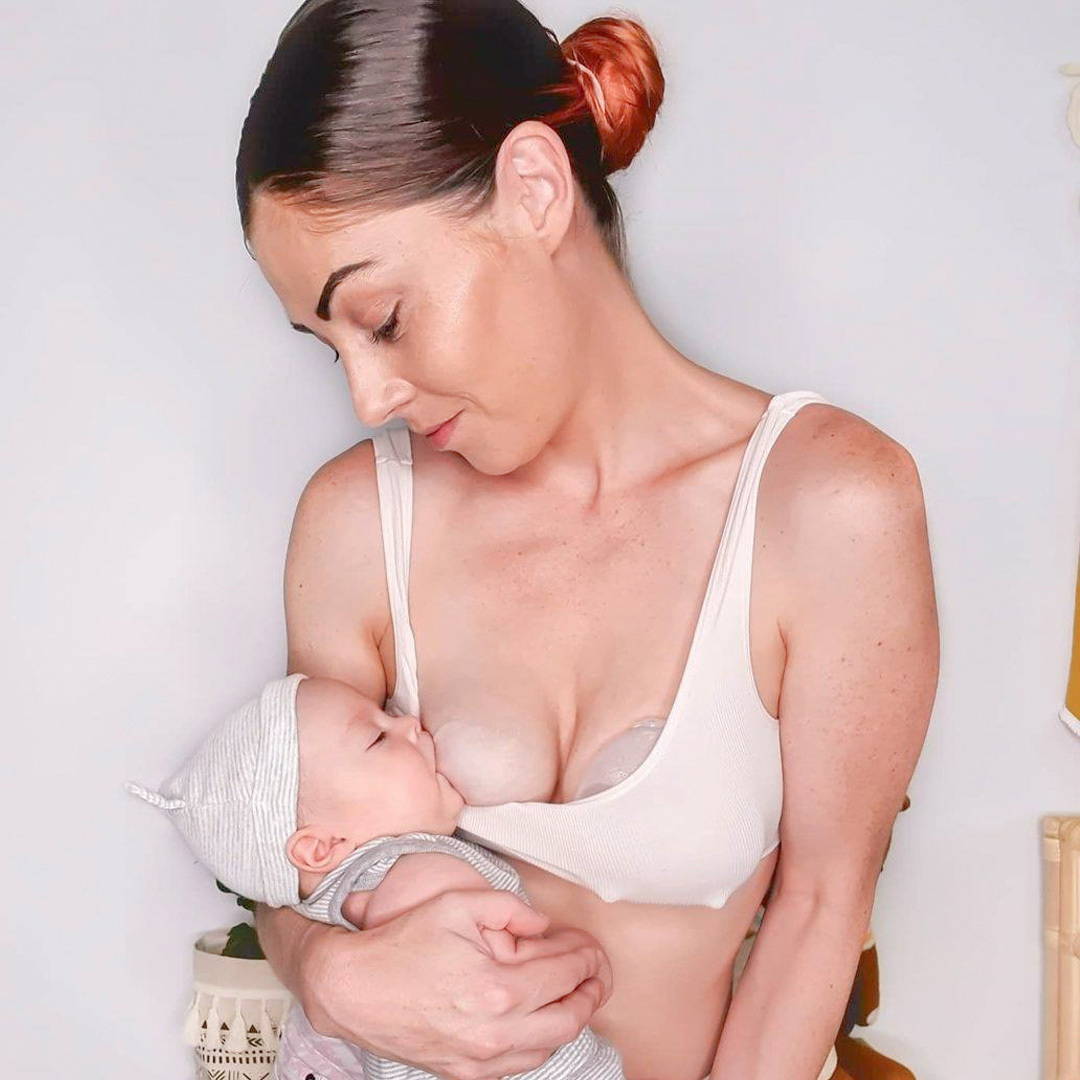 Image Credit: @sherieheather
⭐⭐⭐⭐⭐ "Wish I'd Had One For My First Two Kiddos!
Love this little invention. I'm a third-time mama, and I wish I'd had this for my first two. I used to pump regularly to build up a stash, now I don't need to - and that's SUCH a relief. It takes me two days to collect enough milk for a bottle's worth to store in the freezer for the odd occasion when I might need someone else to bottle-feed bub. Such a clever idea".
- Alexandra
Apart from being the cutest breastfeeding accessory, these little gems are your boobies' best friend.
As Alexandra says above, these are designed to catch leaks while you go about your daily life so that you can save every drop for future feeds.
The Ladybug Milk Collector quickly suctions onto your breasts and sits in your bra. You'll be amazed at how discrete they are!
Check out our product page to see images of them being worn. With a slight amount of suction, the silicone collectors capture leaks and letdowns so that no one drop is wasted in nursing pads.
Remember, breast milk is safe to store at room temperature for up to 4 hours. You need to empty your Ladybugs after 2-3 hours wear and refrigerate your milk in appropriate containers. 
Haakaa Ladybugs come in packs of two, or you can purchase them as a twin pack with the cutest carry bag to take to work, travel or anywhere on the go.
The Haakaa Ladybug Milk Collector is best used for:
Before your breasts regulate
If you're prone to leakage
Collect leaks from the other breast while baby is feeding
Collect milk anytime, anywhere
⭐⭐⭐⭐⭐ "Easy To Use, Perfect Little Friend
Fits nicely in the bra for extra support from wiggly worms on the feeding boob. Stays on the boob without extra support, but my Bub is finding his hands and feet, so needed extra support to hold it in place.
I didn't realise how much letdown was coming out before I bought it, and I wish I bought this earlier to save all that milk!!"
- Taylah
Can I wear a Haakaa Ladybug Milk Collector at night?
Yes, you can use the Haakaa Ladybug Milk Collector in bed. However, breast milk is safe at room temperature for up to 4 hours.
So, you will either need to get up at night to empty the collectors, then wash and pop them back on, or discard the milk in the morning.
Does the Haakaa Ladybug Milk Collector increase milk supply?
No. There is very little suction with this collector, so it will not stimulate more breast milk production.
Summary of the Haakaa Ladybug Milk
Made from soft, medical grade silicone that's PVC, phthalate and BPA free
Discretely collects leaks and letdowns
Wear on the go
Three sizes to fit your breasts or quantity collected
The Haakaa Silicone Breast Pump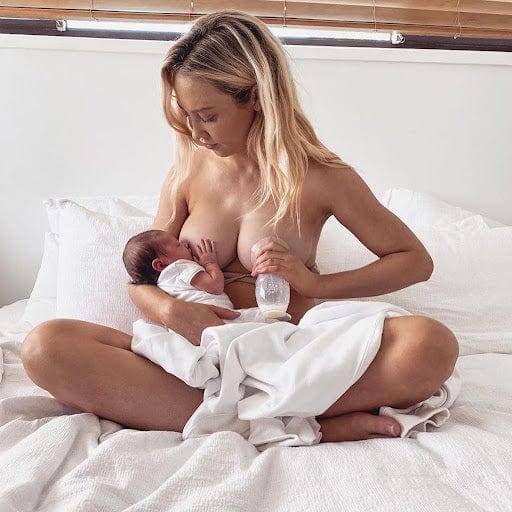 Image Credit: @amy_isha_hembrow
⭐⭐⭐⭐⭐ "Love It..."
Genuinely surprised this worked since I never leaked but I'm easily catching 30-100ml each feed from the opposite boob.
- Caitlin
This baby is a step up from the Ladybug in terms of suction and collection.
The Haakaa Silicone Breast Pump draws breast milk more than just capturing leakage but is not designed for exclusively expressing mamas (if you're doing a lot of expressing, we recommend you get a stronger double pump).
We love this breast pump for building up a milk stash. Attach your Haakaa when breastfeeding to capture letdowns and leakage, or at times when you have a lot of supply, often this is in the early hours of the morning.
This pump creates a suction without batteries and cords, so you can move around and use it hands-free.
This is a quiet and discrete way to capture breast milk if you need to express it at work or occasionally.
Can I use the Haakaa Silicone Breast Pump for colostrum?
Absolutely. You can use the Haakaa Silicone Breast Pump to draw out your colostrum and store it in this handy colostrum collector.
Check Out: How To Express Colostrum During Pregnancy
The Haakaa Silicone Breast Pump is best used for
Occasional pumping
Mums who are primarily breastfeeding and want to offer an occasional bottle
Those looking for a simple and portable option
Those who don't have access to power or a pumping station or who need to pump on the go.
⭐⭐⭐⭐⭐ "Would 100% Recommend!
I can't believe how much I was leaking (and wasting/losing) until I used the Haakaa. Previously had used a popular electric pump with my first child. It was tiresome and not consistently very productive. The Haakaa is so easy to use - even with one hand while you feed to attach it, no hands are required! I got a lot more from using this than I did from forcing it with an electric pump. Easy to clean, simple to use and hands down the best purchase! Wish I'd had it earlier and would definitely recommend it.
- Natalie
Summary of the Haakaa Silicone Breast Pump
Made from soft, medical grade silicone that's PVC, phthalate and BPA free
Helps build a milk stash and collect letdowns and leakage while breastfeeding
Three generations of design with different capacities
Provides gentle suction to get the most out of your breast
Easy Comparison Chart: Haakaa Ladybug Milk Collector VS Haakaa Regular Pump
Haakaa Ladybug Milk Collector
Haakaa Breast pump

Home, work, travel, on-the-go, outdoors

Pop in your bra and safely collect milk for up to 4 hours at a time.

Use it while breastfeeding or to build your stash. Designed to sit down and pump and store, rather than on-the-go.

Gen 1 & 2: 100ml, 150ml
Gen 3: 160ml, 250ml
---
More Breastfeeding Resources
Take a look at some of our other informative breastfeeding blogs: