If there is one product that we get asked about regularly here at Milkbar, it's the game changing Haakaa Silicone Breast Pump. How to use it, when to use it and how to create a milk stash are questions that fill our inbox weekly.
Here, we answer all your questions so that you can start using your Haakaa Silicone Breast Pump quickly and easily.
And when we say it's a game changer of a product, we really mean it. You can check out the hundreds of reviews from happy milky mamas right here. Read on to find out all about the Haakaa Gen 2 and how it can make #mumlife that little bit easier!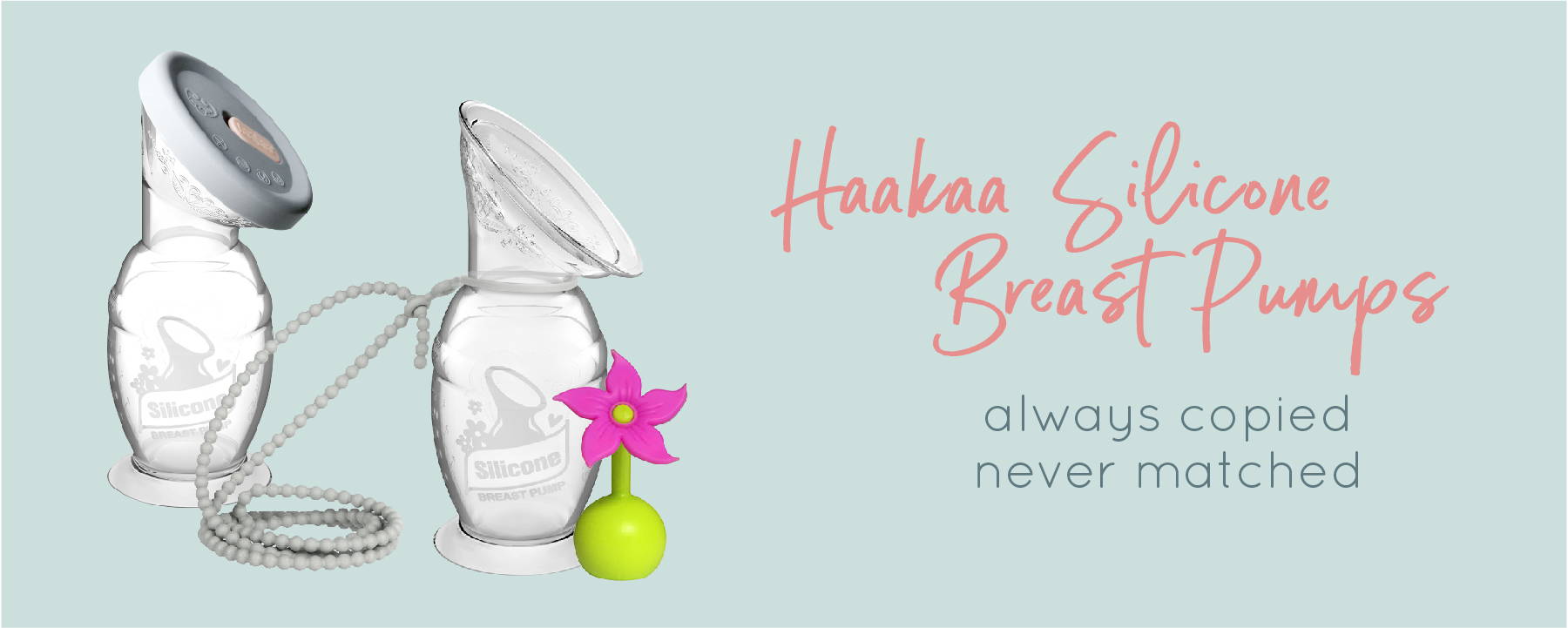 The easy way to create a milk stash
Building a breast milk stash can be super useful, especially if you'd like to introduce a  bottle to your bub. Finding the time to actually create one however can be tricky with a newborn under foot. That's where the Haakaa comes into play!
The easiest way to begin building a milk stash is by integrating the Haakaa into your everyday routine. Here's what we recommend:
1. Choose a 1-2 times a day to get your Haakaa on. Many mamas choose times early in the day as your milk supply is often better in the morning.
2. Use your Haakaa during feeding. This is what the Haakaa is designed for! Using it in conjunction with a breastfeed removes a lot of the usual concerns that come with pumping (like triggering your letdown etc).
3. Attach your Haakaa and attach your baby! As your baby feeds, your Haakaa will collect milk from the other side. Don't worry about it 'taking' the milk your bub would otherwise be getting! Your breasts continually produce milk and won't run out!
4. Once your baby has finished their first side, you can remove your Haakaa and either pop on your cap or stopper or you can swap sides the use your Haakaa on the side that baby has just fed on to catch every last drop.
5. Depending on how much milk you need to collect, you may want to repeat the process another time. Otherwise using your Haakaa once a day may be sufficient.
Q: I don't leak, will the Haakaa work for me?
The Haakaa works for many mums who don't leak on the opposite breast when breastfeeding. Breastfeeding simultaneously while using the Haakaa helps with achieving let down as the Haakaa only provides gentle suction.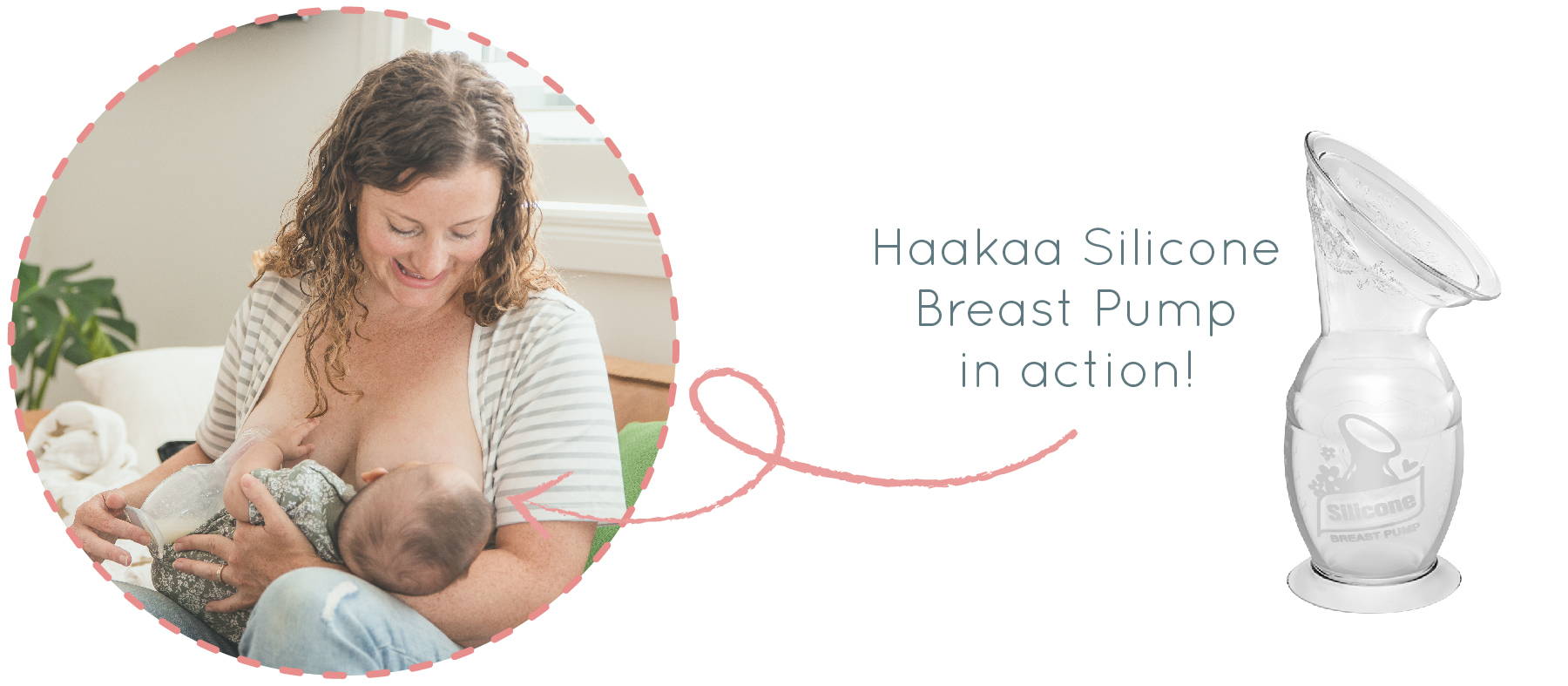 Q: Can I use the Haakaa even when I'm not breastfeeding bub on the opposite side?
While the Haakaa is designed to be used in conjunction with feeding, it can absolutely be used on its own. This is thanks to the gentle suction which stimulates your breast to let down. You can also use the Haakaa alongside an electric breast pump so that you end up with a double pump (and double the milk!). 
Q: When should I start using my Haakaa?
You can start using your Haakaa as soon as you feel comfortable to after birth. In fact, some mamas actually use their Haakaa during pregnancy to help collect colostrum! Many mums will begin using their Haakaa once their milk has come in, especially in the early days to help relieve engorgement  and capture all that amazing liquid gold.
Q: Is there a better time of day to use my Haakaa?
Some mamas find that the morning feeds produce a little more milk due to longer periods between feeds overnight. This is very much an individual thing and you may need to experiment to see what works best for you.
Q: How many times a day should I use my Haakaa?
This really depends on how much milk you'd like to collect! For mums who may want to build a bigger freezer stash and/or introduce a bottle, using their Haakaa for a couple of feeds each day may yield the best results.
For mums who just want to catch their letdown and maybe have a smaller amount of milk in the fridge, 1-2 times per day may work. Again, it really depends on your milk supply, how much you catch each feeding session and what your specific needs are in terms of a milk stash. Experiment and see what works best for you!
Q: Will I need an electric breast pump if I have a Haakaa?
It really depends on what you are pumping for. If you need to pump large quantities of milk, regularly express full feeds in a single session or are exclusively pumping then you'll probably need to use your Haakaa in conjunction with an electric pump. If you're just looking to build a breast milk stash, or pump every now and then, the Haakaa alone is ideal.
Q: Is it easy to integrate the Haakaa into my daily routine?
Yes! This is one of the things we love most about the Haakaa! With traditional pumps, it can sometimes be tricky to settle into a schedule, especially when you have to hook up your pump to an electricity source/battery pack and find the time and space to do so. The Haakaa can be suctioned on during any feed leaving you hands free. No cords or wires required!
Q: How do I combine breast milk if I use the Haakaa multiple times in the same day?
If you decide to use your Haakaa multiple times in the same day, you'll probably be wondering the best way to store and/or combine your milk.
If you are planning on expressing multiple times within a 6-8 hour period, you can either keep your milk at room temperature and continually add to your sealed stash (you can seal your Haakaa with either the silicone breast pump flower stopper or silicone cap) provided the temperature is under 26c and you refrigerate at the 8 hour mark.

Alternatively, you can refrigerate your expressed milk after each pumping session and then then combine but you'll need to wait till the fresh milk has been cooled. This will usually mean that you'll need multiple milk storage bags or bottles.
Depending on the temperature where you live, it may be easier to combine a couple of pumping sessions worth of your milk at room temperature before refrigerating or freezing.
Q: What is the best way to store the milk I collect in my Haakaa?
After you finish using your Haakaa, the best way to store your milk is in either a milk storage bag (like these Junobie Reusable Milk Storage Bags) or a milk storage container before moving to the fridge or freezer. Simply remove your cap or stopper and carefully pour your milk into your chosen storage system. Seal securely and store as per the above recommendations.

Q: Do you need to constantly squeeze/pump the Haakaa like other manual breast pumps?
No you don't need to provide a constant pumping action like a traditional manual breast pump. A couple of quick squeezes of the base can help to trigger a letdown however, or help if milk flow slows.
Q: Will expressing with the Haakaa mean that my baby misses out on milk?
Breastfeeding your baby is obviously more important than building a stockpile of breast milk. We recommend monitoring nappy output to ensure that baby is hydrated and working with an International Board Certified Lactation Consultant (IBLC) if you have any ongoing concerns. Listen to your baby and your body. For first time users you could try and collect 20ml and see how you and your baby, feel. 
Q: I have engorgement, will the Haakaa increase my supply?
If you are experiencing engorgement it is important to drain the breast frequently to help avoid complications such as mastitis. Removing any breast milk from the body will trigger more breast milk to be produced. However until engorgement symptoms disappear it is important to drain the breast frequently for comfort and until any lumps have been removed. The Haakaa pump can help to relieve symptoms of engorgement and collect all that liquid gold. If you suspect you have mastitis or our experiencing flu like symptoms, please seek advice from your GP. 
Q: What is the difference between the Haakaa Gen 2 and Gen 3?
The Haakaa Generation 3 Pump features the same simple and effective design that you know and love, except you can express directly into a detachable silicone bottle along with a range of other attachments.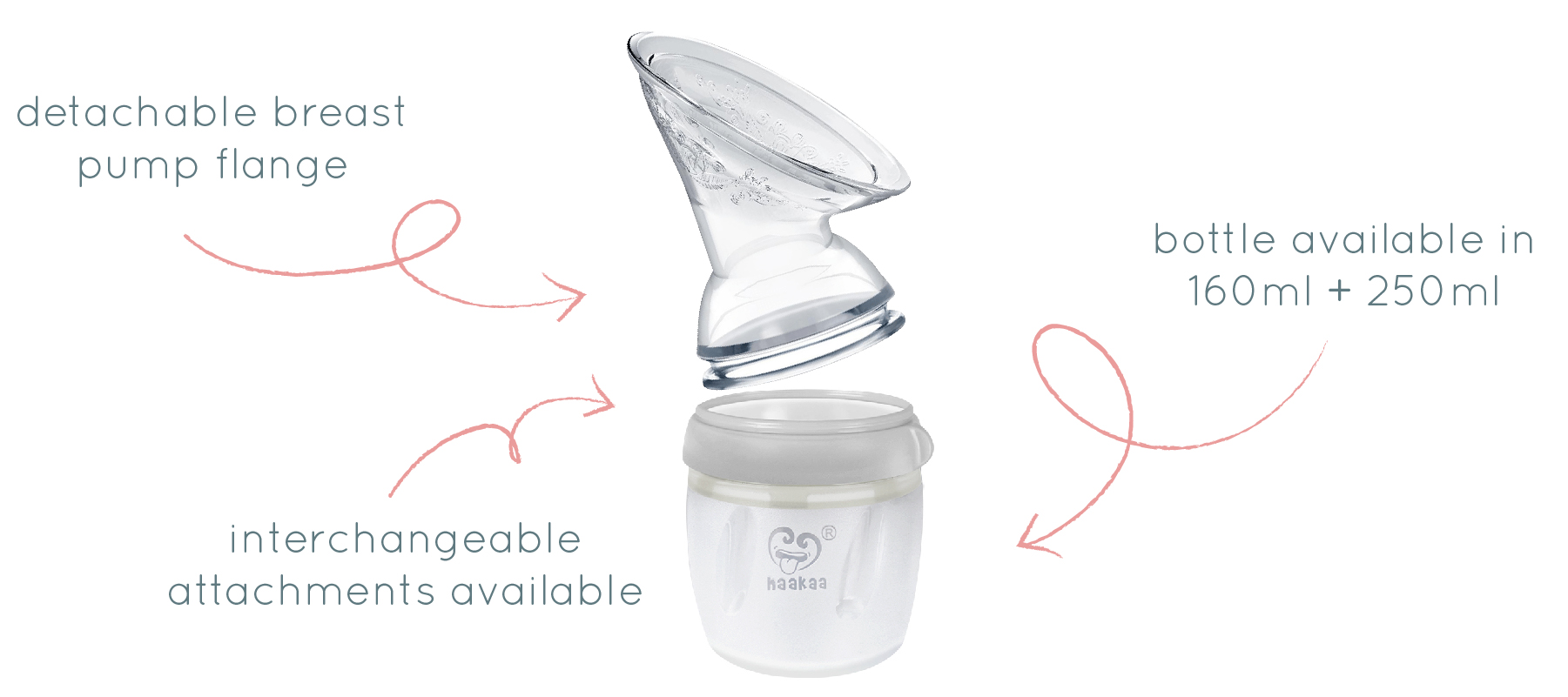 With a quick twist of the top, you can swap out your breast pump flange for any of our range of optional interchangeable attachments (each sold separately). We have a baby bottle lid to let you feed your little one expressed milk, a feeding spoon dispenser for when your baby moves on to solids, a sippy bottle top to help your independent toddler transition from a bottle to a cup and sealing discs to preserve any leftover food or milk after feeding.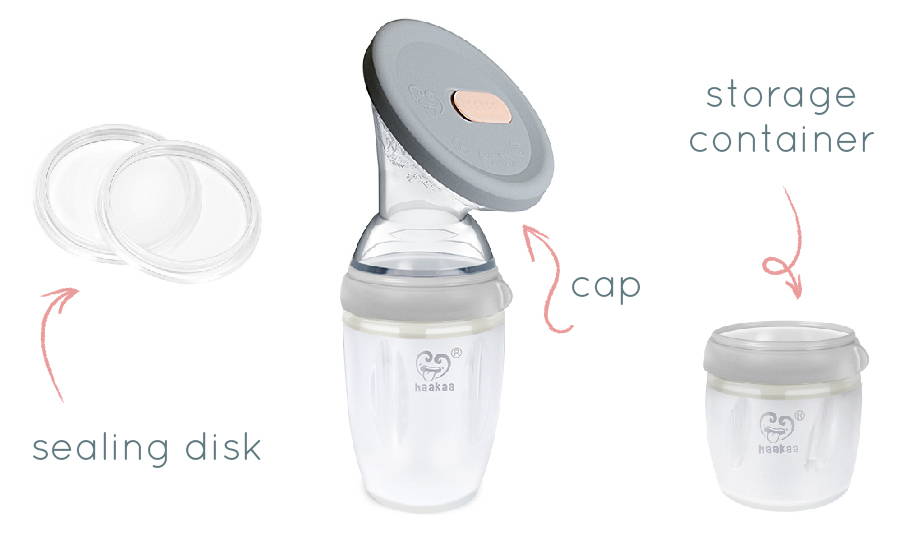 ---
Jade's Review of the Haakaa Breast Pump
For the past two weeks I have been trialling the Haakaa Silicone Breast Pump. I have expressed daily, at different times of the day using the Haakaa. The reason I have done this at different times is to see the variation in the amount of milk I am able to collect.
Day 1 – 10 minute expression @ 7am, 50ml
Day 2 – 10 minute expression @ 6am, 50ml
Day 3 – 10 minute expression @ 3pm, 30ml
Day 4 – 10 minute expression @ 1pm, 30ml
Day 5 – 15 minute expression @ 8pm, 30ml
Day 6 – 15 minute expression @ 7am, 50ml
Day 7 – 10 minute expression @ 7am, 50ml
Day 8 – 10 minute expression @ 11am, 30ml
Day 9 – 10 minute expression @ 6am, 40ml
Day 10 – 5 minute expression @ 7am, 20ml
Day 11 – 5 minute expression @ 12pm, 20ml
Day 12 – 10 minute expression @ 8pm, 30ml
Day 13 – 10 minute expression @ 7am, 50ml
Day 14 – 10 minute expression @ 7am, 50ml
530ml of breast milk from using the Haakaa on 1 side in 2 weeks!
I have found the Haakaa to be incredibly easy and very comfortable once I got the hang of it. I feed my son on one side and I catch the let down on the opposite side. I find this to be the best way to start expressing, as the oxytocin hormone is released when you snuggle or breastfeed your baby.
I have been using the Haakaa once a day, whenever I could sneak a few minutes of quiet time with just Bobby and I. The reason I have tried to have quiet time is to try and connect with Bobby and really get that let down happening.
The Haakaa is by far the best, most comfortable and easiest manual breast pump that I have come across. I highly recommend that every breastfeeding mum have one – compact, lightweight, silent, the Haakaa comes with me in my nappy bag because I never know when I'm going to need to whip it out and collect all that liquid gold.
Need help? We're here to answer all your questions!
You can contact us Monday to Friday, 10am-3pm via phone (1300 781 275) or email (info@milkbarbreastpumps.com.au)