Meet the Haakaa Silicone Milk Collector. Similar in some ways to the Haakaa Silicone Breast Pump, the silicone milk collector is more cousin than twin; yes, the two products share some features BUT they've also got some key differences. We walk you through them here and explain how and why a milk collector might work for you.
What IS a milk collector?
A milk collector is pretty much what it sounds like; a nifty little device designed to slip inside your bra, attach to your breast and catch any milk that might be leaking out. You can then pop the collector out and use or store the milk it's caught.
The Haakaa Silicone Milk Collector is a little different to your standard milk collector in that it also utilises suction, just like the Haakaa Breast Pump. By pressing it into your breast, you will feel the light suction as the collector gently maximises the amount of breast milk leakage it catches.
Why would I need a milk collector?
A lot of milk can be lost in your breast pads every day. Whether you're a prolific 'leaker' or not, chances are good that you'll be leaking at least part of the day. Using a silicone milk collector means you can collect all those leaks and put them to good use. It saves the milk that would otherwise be thrown away or lost to the washing machine!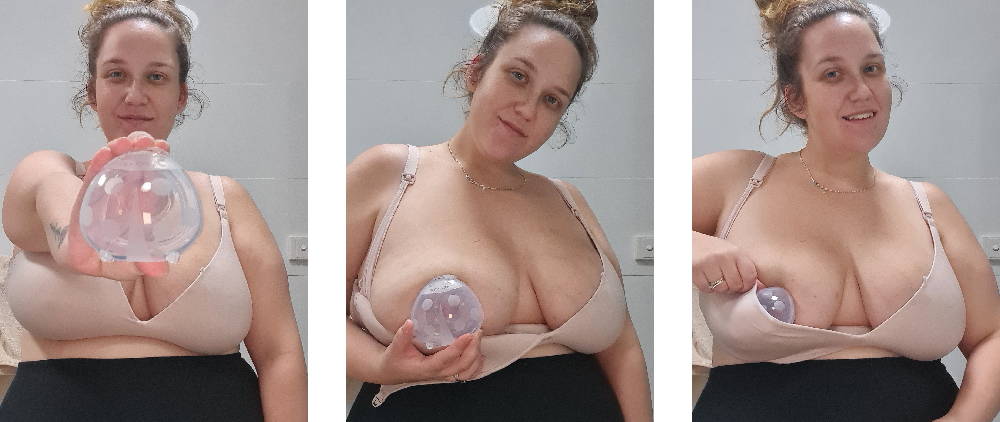 Wouldn't it be quite obvious in my bra?
Made from a single piece of food grade silicone, the one piece design fits easily into your bra and can be worn undetected, thanks to the soft and squishy nature of the silicone which gently moulds to your breast.
You can wear your milk collector while out and about without any fear of leakage thanks to the innovative design which ensures that it sits snugly over your nipple and on your breast.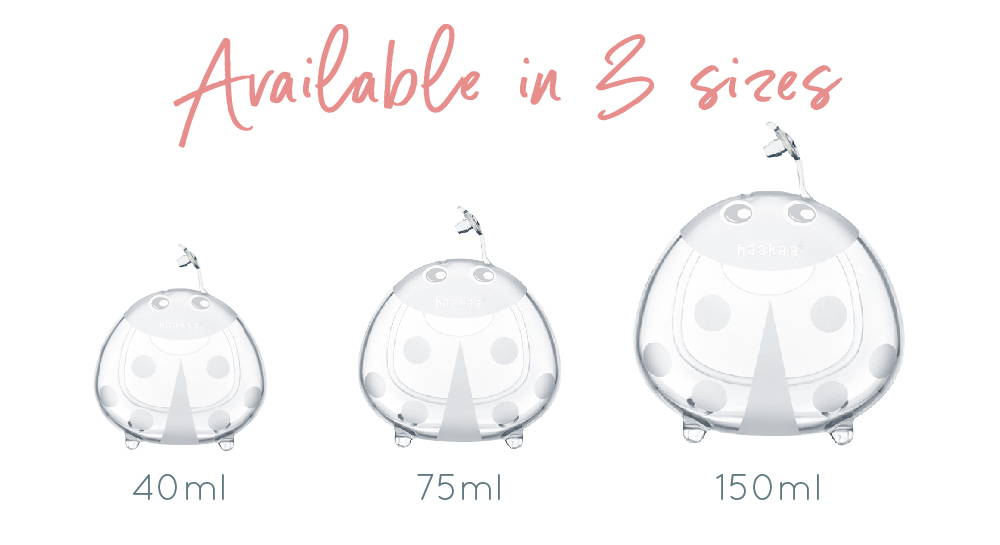 How to use your Silicone Milk Collector 
Using your silicone milk collector is very straight forward.
Before using for the first time, give your milk collector a wash in hot, soapy water (or steam sterilise).

Push the plug (where you empty your collected milk) into the outlet to make sure it's closed.

Centre the opening of the milk collector over your nipple so that your nipple is in the middle.

Push onto breast and gently squeeze both sides of the container. You'll feel light suction and the collector will stay attached without you needing to hold it.

Pop on your bra/singlet/shirt. Just be conscious of where the collector is sitting and position it so that it is comfortable.

To remove the collector, gentle break the suction, p

ull out the plug from the outlet and pour the milk into a milk storage container. Extra milk can be stored long term in the freezer.
How does the milk collector differ from the Haakaa Breast Pump?
While the Haakaa Silicone Milk Collector and Haakaa Silicone Breast Pump have similar features, they do two different jobs. The milk collector plays more of a passive role; sitting in your bra to collect any leaks. While it employs light suction, it doesn't actively draw out your milk. You can also use the milk collector virtually without detection and swap it out for your usual breast pad.
The Haakaa Silicone Breast Pump is all about utilising suction to both stimulate and catch your letdown. While the breast pump is hands free and can absolutely be used on-the-go, many mamas use it when they're already feeding their babies or are needing to pump while out and about. Your Haakaa breast pump will also be able to draw out more milk than the milk collector.
Haakaa Pump Comparison Chart
| | | | | |
| --- | --- | --- | --- | --- |
| | Ladybug | Gen 1 | Gen 2 | Gen 3 |
| | | | | |
| | One piece silicone construction, collects leakage with light suction | One piece silicone construction, compact size | One piece silicone construction, larger size, stable suction of solid surfaces | Powerful, multi-use with interchangeable attachments, flat and stable base |
| | | | | |
| | | | | |
| | | | | |
| | Outdoor, activities, on-the-go, work, home, travelling | Home, on-the-go, travelling, work | Home, on-the-go, travelling, work | Home, on-the-go, travelling, work |
Is it easy to keep clean?
Thanks to the use of food grade silicone, your milk collector is easy to keep clean and can simply be washed with hot soapy water or sterilised via a steam system. It's also BPA, PVC and phthalate-free.