When it comes to baby gear, there is no shortage of 'must haves'.
From the life-saving breast pump (ahem the Haakaa cough cough), to the essential swaddle suit, and everything in between, there's PLENTY of stuff for such a tiny little person. And most of it you'll buy well before B-Day arrives. 
But there's another category of baby gear. It's the stuff you never realised you needed UNTIL you suddenly did. Usually at 3am when your newborn refuses to settle. Or on that afternoon when you're visiting your work colleagues and suddenly find yourself wearing a full days worth of breastmilk that's been lovingly regurgitated by your offspring. 
It's the bottle of baby Panadol and the boobie soothing ice packs. The things that make you go; 'I WISH I KNEW ABOUT THIS BEFORE.'
And the nifty little device below? It absolutely falls into that category.

Making life less terrifying for new parents
'A nail care set?' we hear you say. 'Surely that's not an ESSENTIAL?' Those are words spoken by someone who has most likely never had to trim a newborns nails. Because anyone who HAS will know that there is not much that is more terrifying in life than holding what is basically a blade right up close to the teeniest nail beds you ever did see.
The Haakaa Baby Nail Care Set makes trimming tiny talons quick, easy, and because it's pressure activated, accident free! All you need to do is attach the trimmer pad suited to your child's age and gently file down their nails. No scissors required! There's even a little spotlight attached to make it even easier to see what you're doing. GENIUS!
It's just one of those nifty tools that you never realised you needed... until now.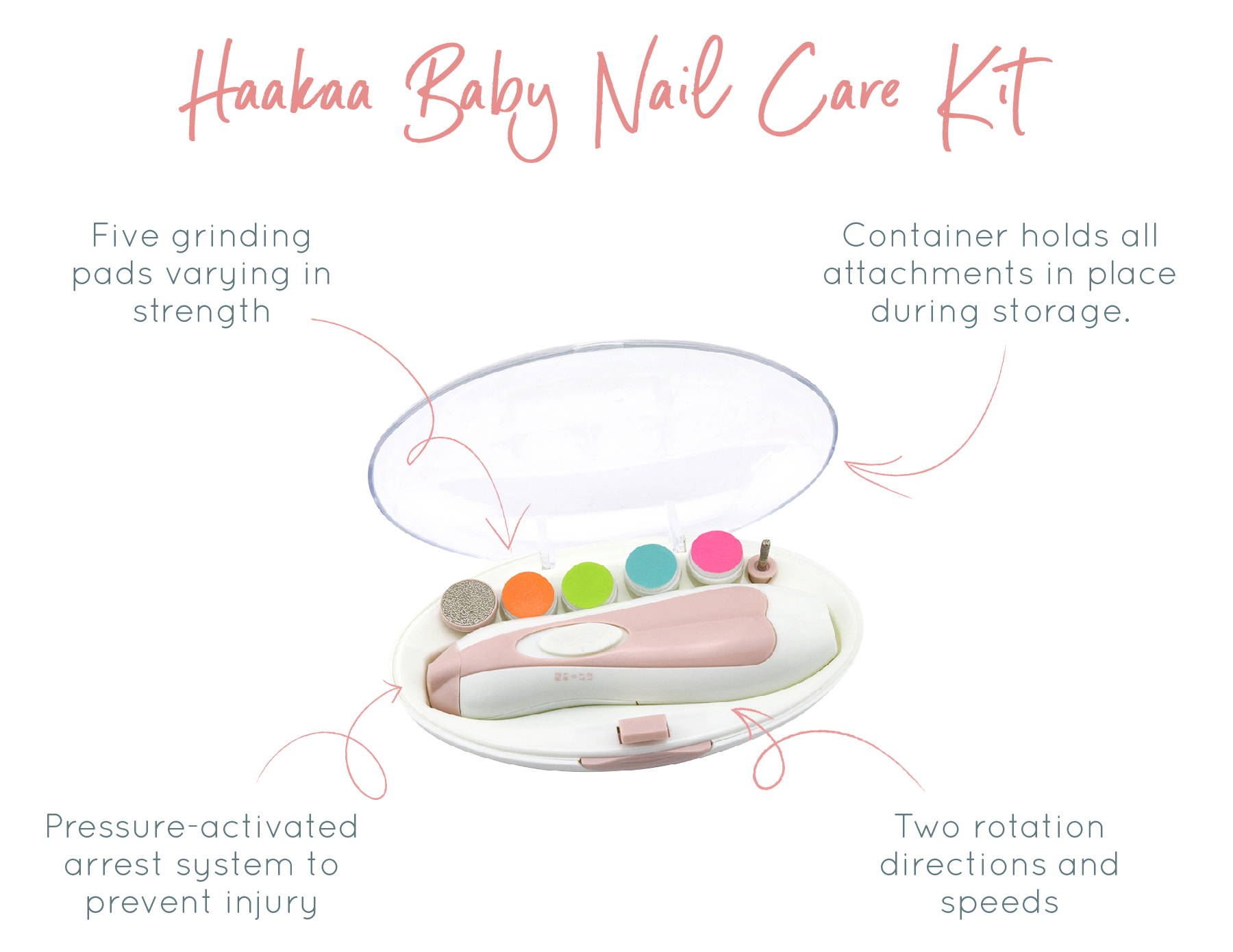 ---
What our Milkbar mamas say:
Perfect for newborns
"I bought this for my niece as my sister was worried about hurting her with clippers. We waited until she was napping to try it the first time and it was so easy to assemble and use. I'd definitely recommend this product to trim bubs nails as a safe and easy alternative." Belle
Yasss
"Such a good buy! Been worrying about trimming bub's nail since she was born. Bub's nails are sharp but I am worry about using the traditional nail clipper. This kit is a total lifesaver. I trimmed bub's nail while she was sweeping. It is easy to use, doesn't not hurt bub nor does it wake her up. Highly recommend to all mummas! Jee Ping (Esther)
Great investment
"This kit is a great investment for looking after your little one's nails. Makes a pleasant humm noise that doesn't disturb baby and is so much easier than trying to use a file/clippers. Highly recommend." Laura
For more information on the Haakaa Nail Care Kit, click HERE