Struggling with cracked, inflamed or sore nipples? We're here to help. Let's talk about all things Silver Nursing Cups. If there's something we're passionate about, it's helping to make every Mama's breastfeeding journey just a little bit easier.
With so many Mums experiencing the pain of cracked, inflamed and sore nipples, we've set out to find a product that's both good for Mum and the environment. Handcrafted from 925 sterling silver and 100% nickel free, Lactivate® Silver Nursing Cups are designed to be used between breastfeeding sessions to help protect, soothe and heal damaged nipples.
Handmade, eco-friendly, easy-to-use and here to bring you some much-needed comfort and relief. It's one of those products that we constantly hear "I wish I had when breastfeeding my children" and recommended as an essential hospital bag item.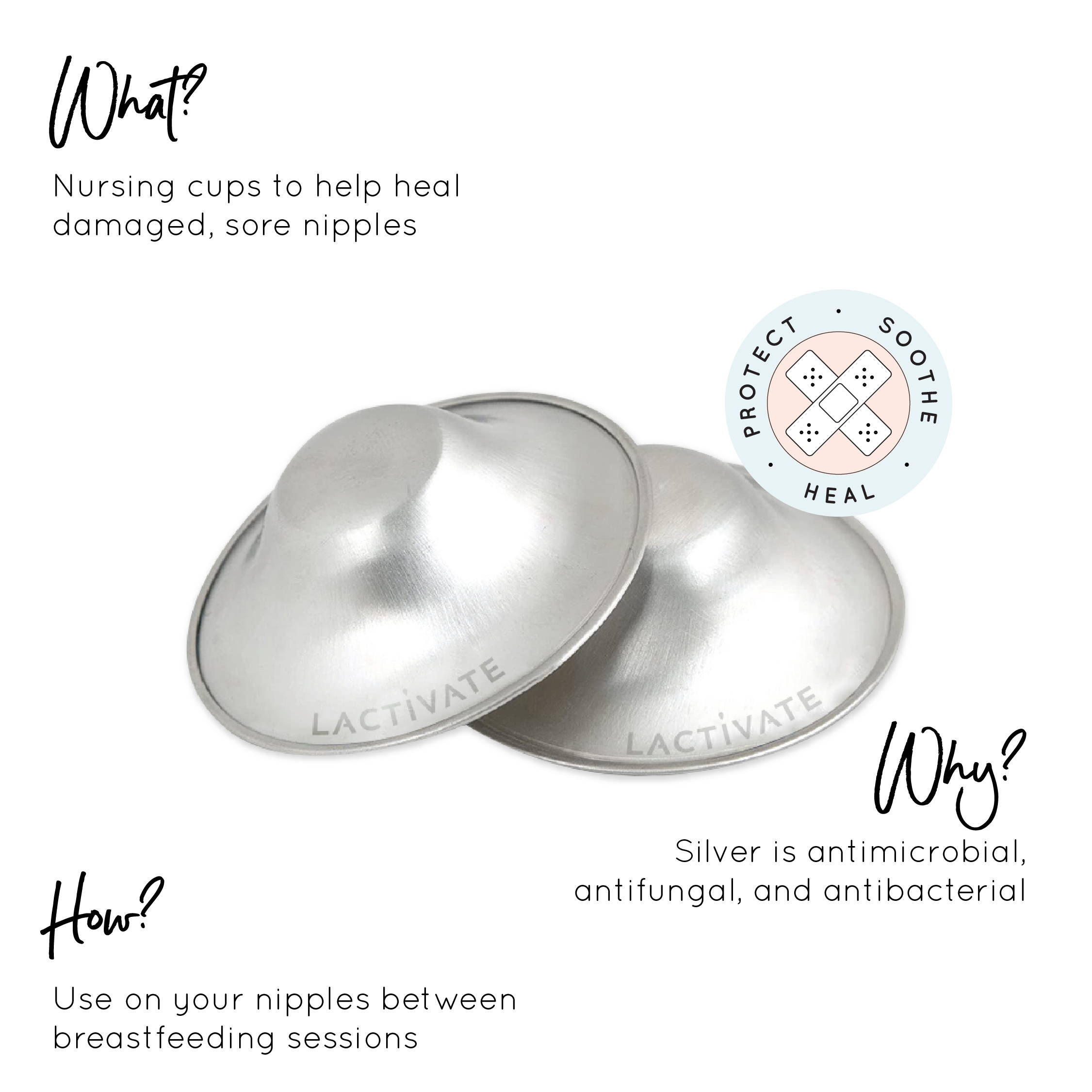 How do they work?
The shape and properties of the silver nursing cup allows air to circulate around the nipple along with your own breastmilk to help heal sore and cracked nipples naturally using your own liquid gold!
Who would benefit from using Silver Nursing Cups?
If you're reading this, you or someone you love is probably struggling with the all too common effect of sore nipples due to breastfeeding. The purpose of using Silver Nursing Cups is to help soothe and protect sore or cracked nipples during your breastfeeding journey. Silver has natural antibacterial and anti-inflammatory properties, which may help prevent nipple damage and promote healing.
When should I start/stop using Silver Nursing Cups?
Silver Nursing Cups are typically used to help soothe and protect sore or cracked nipples during breastfeeding. While most people tend to use them for a few days to a few weeks, it's recommended to use Silver Nursing Cups until the nipples have healed and breastfeeding is more comfortable and established.
How long can they be used for?
How long you use them for is generally up to you. The length of time that you need to use them can vary depending on the severity of your symptoms and how quickly your nipples heal. Unlike creams and ointments, our Silver Nursing Cups don't have an expiry date.
It is also important to note that while Silver Nursing Cups can be helpful in managing breastfeeding discomfort, they are not a substitute for addressing any underlying issues that may be causing pain or difficulty with breastfeeding such as poor attachment. If you are experiencing ongoing breastfeeding concerns or difficulties, it is important to consult with your healthcare provider to identify the underlying cause and develop a comprehensive treatment plan. If symptoms persist please seek medical attention to address your concern.
Why Silver?
Silver has natural antibacterial, antiviral, and antifungal properties, which make it an effective agent against various pathogens. Another major benefit to Silver? It's a precious metal that holds so many healing properties. And what healing properties you may ask? We've listed some of them down below:
Antibacterial: Silver can kill a broad range of bacteria

Anti-inflammatory: Silver has anti-inflammatory properties that can help reduce swelling and inflammation.

Antifungal: Silver has antifungal properties that can help fight fungal infections, such as ringworm and athlete's foot.
How do I choose the right size for me?
Our guidelines are as follows:
Regular/Medium will work if your areola is less than 4.5cm.
Large/XLarge is perfect if your areola is more than 4.5cm.
If you are unsure of which size is the best fit we recommend choosing the Large/XLarge option.
Can I use nipple cream?
Nipple cream may interact with the Silver Nursing Cups. We don't recommend using nipple cream in conjunction with our cups.
Can I use breastmilk in my Silver Nursing Cup?
We all know that breastmilk is a superfood unlike any other. Produced from your body for your baby, breastmilk is also rich in nutrients, antibodies and minerals that can facilitate in helping to heal your own body. Breastmilk can be safely used inside Silver Nursing Cups, and in fact, it may provide some additional benefits. Breastmilk contains natural antibodies and has antibacterial properties, which can help promote healing.
When using silver nursing cups, it is important to follow proper hygiene practices, including cleaning the cups before and after each use. It is also recommended to use them under the guidance of a healthcare professional, particularly if you are experiencing breastfeeding difficulties or pain.
If you have any concerns or questions about using silver nursing cups or incorporating breastmilk into your breastfeeding routine, it is always best to consult with your healthcare provider. They can provide personalised advice and guidance to ensure that you and your baby are safe and healthy.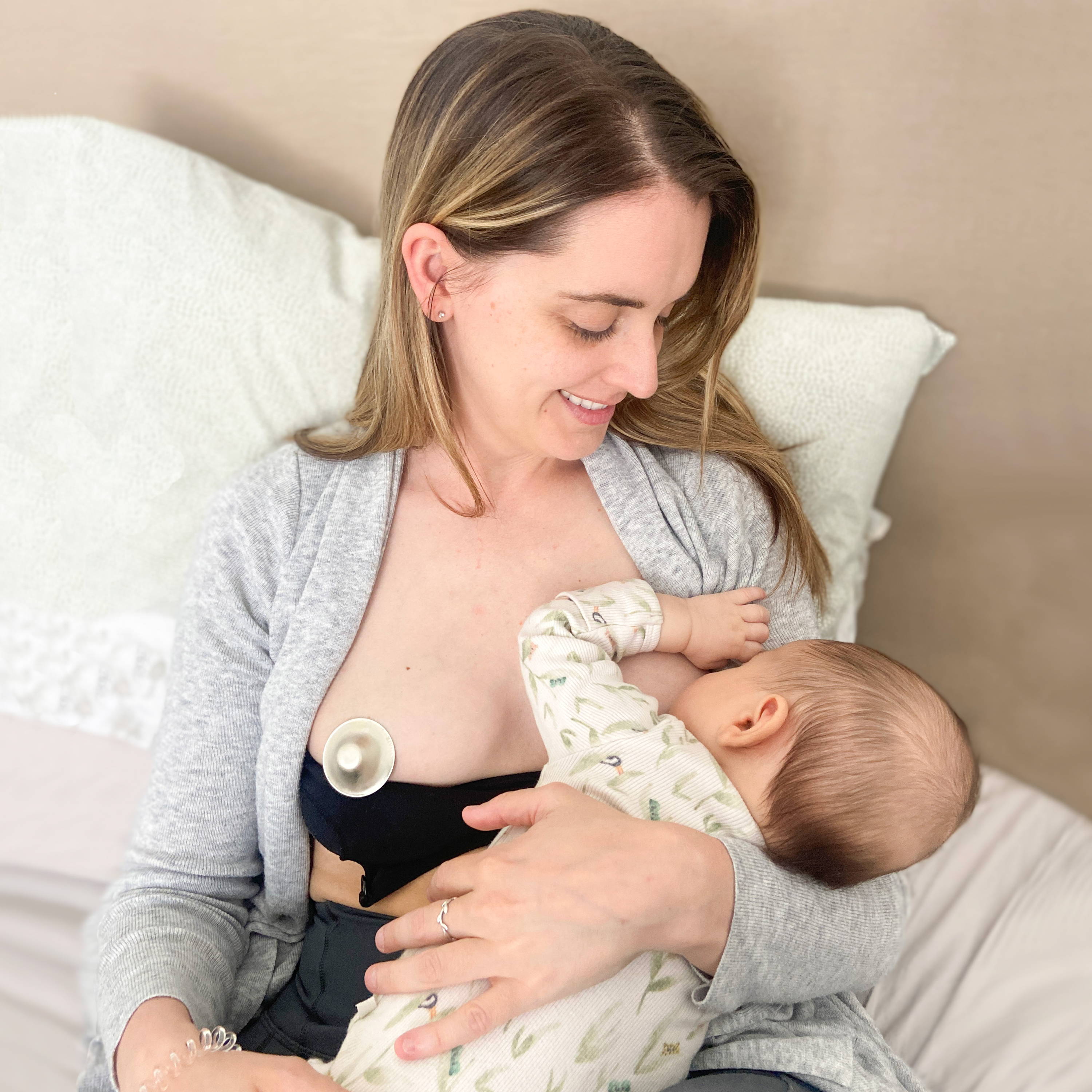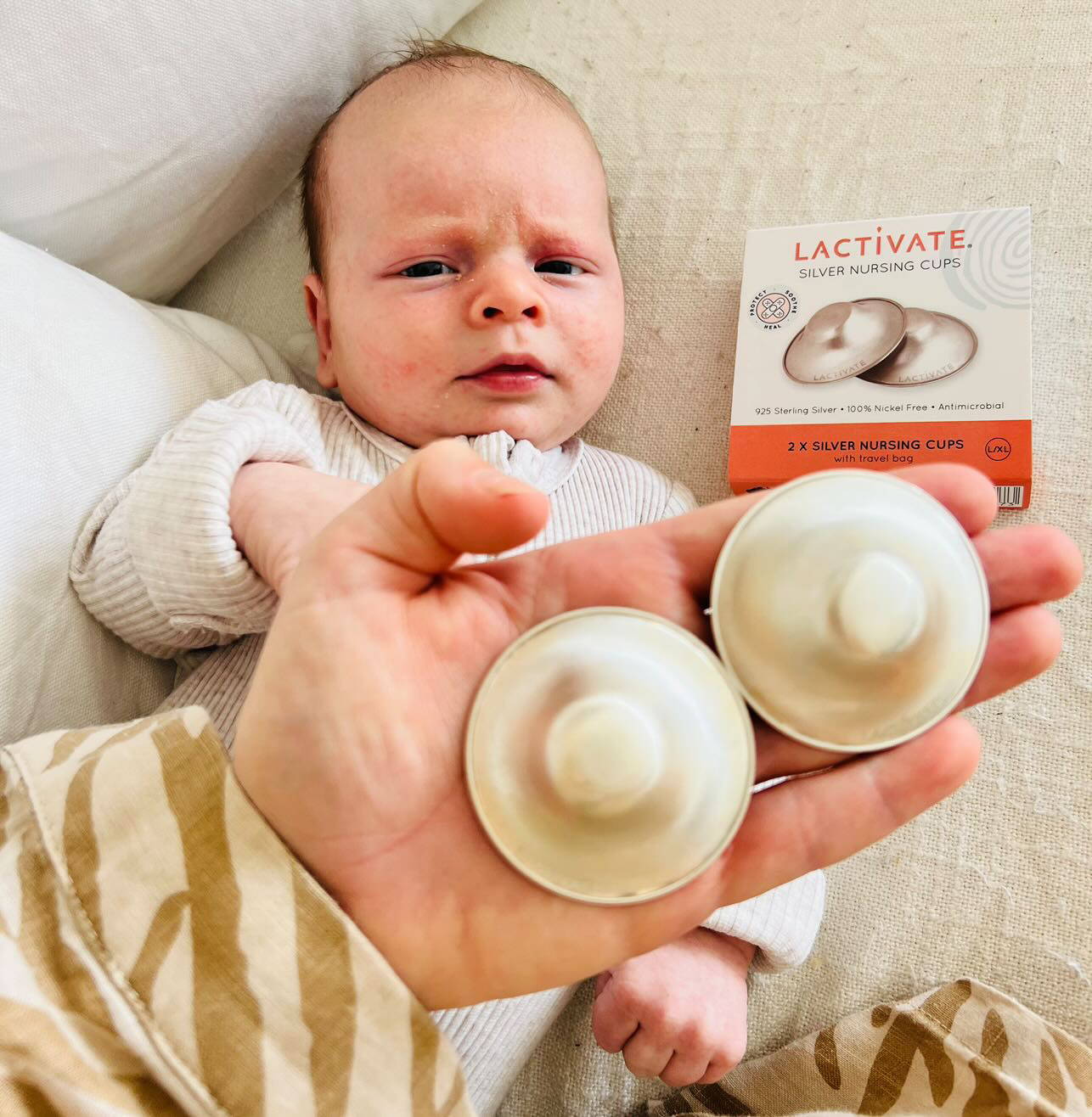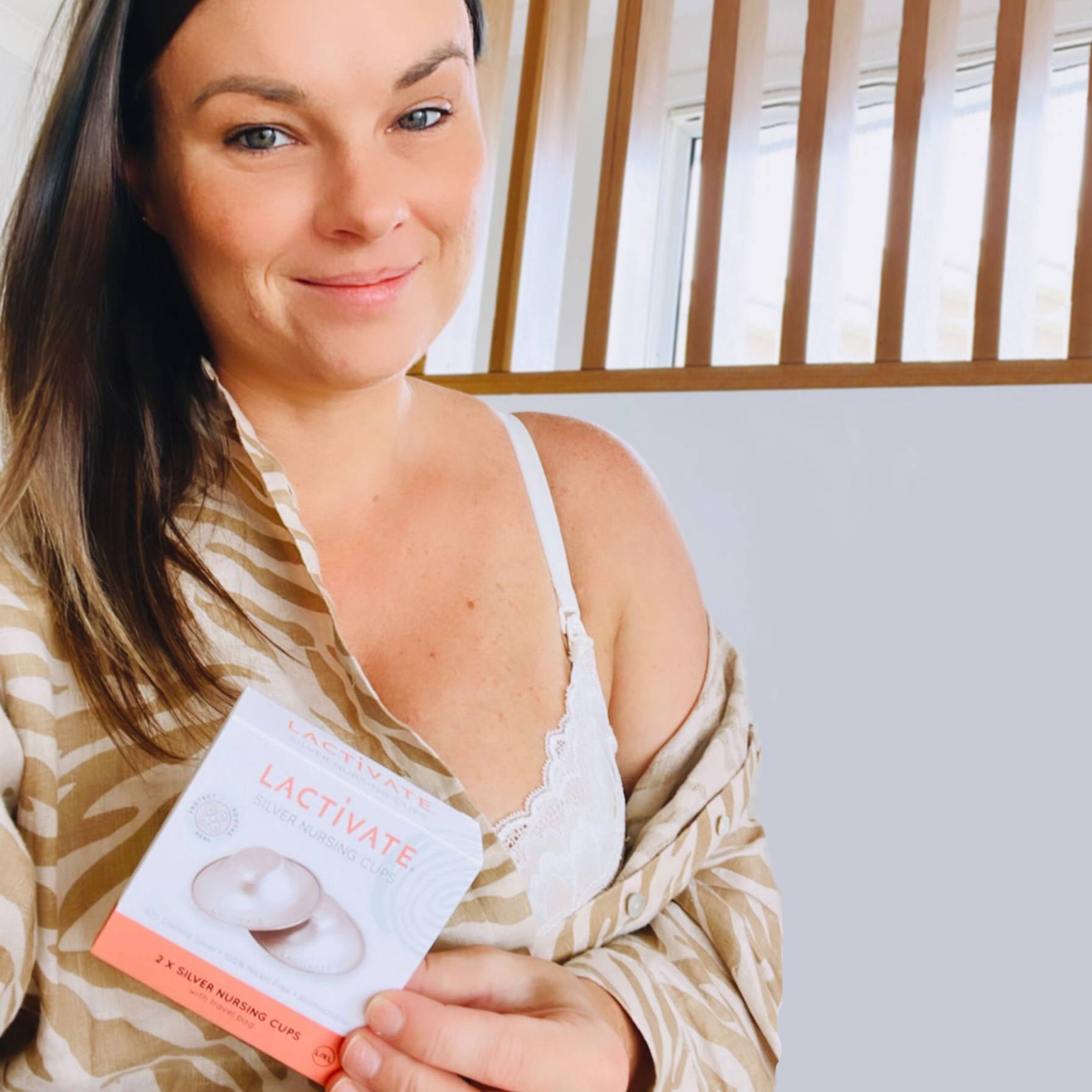 Can you wear Silver Nursing Cups to Bed?
When you choose to wear your Silver Nursing Cups is completely up to you. We recommend using them whenever you're not breastfeeding, showering or swimming, in order to promote the healing of the nipples over time. Wearing them to bed inside a nursing bra might even offer you some much-needed relief, helping you catch a few hours of sleep too.
Can it cause clogged milk ducts?
There is no direct evidence to suggest that Silver Nursing Cups cause clogged milk ducts. However, using any kind of breast shield or nipple shield during breastfeeding can potentially cause clogged milk ducts if not used properly.
Clogged milk ducts can occur when milk is not effectively drained from the breast, which can cause a blockage in the ducts. This can be caused by a variety of factors, such as a poor latch, infrequent feedings, or pressure on the breast.
When using Silver Nursing Cups, it is always important to ensure that they are properly fitted and positioned, so that they do not impede milk flow or cause pressure on the breast. It is also important to follow proper hygiene practices, including cleaning the cups before and after each use, to reduce the risk of infection or inflammation.
If you experience symptoms of clogged milk ducts, such as a tender or painful lump in the breast, please seek medical advice from your healthcare provider. They can provide guidance on how to effectively treat clogged milk ducts and prevent them from recurring.
How do I take care of Silver Nursing Cups?
Taking care of Silver Nursing Cups is really important to ensure you redeem the best out of your product. While in some instances, the Silver may oxidise and show hues of orange tints, it does not affect the effectiveness of the Silver at all. Be very careful not to bend your cups as distorting the shape may affect the overall effectiveness of the Silver Nursing Cups on the area it is placed.
How do I clean it?
Rinse in warm water between use or prepare a cleaning paste using a teaspoon of bicarbonate soda and a few drops of water. Gently massage the the cleaning paste over the cup and rinse with water. Clean every few hours or between feeds.
How often should I clean Silver Nursing Cups
You should be cleaning your Silver Nursing Cups in between every use. While seemingly tedious, it is important to ensure your Silver Nursing Cups are cleaned between uses so that infections are not transferred or prolonged between wears.
If I use (dishwasher, major detergents, excessive scrubbers etc) will it affect the Silver's effectiveness?
No, home-grade dishwashing liquid should not affect the effectiveness of the Silver, however, using excessing scrubbing and harsh detergents may tarnish your cups quicker.
Using Silver Nursing Cups can assist with irritated and sore nipples. If you'd like to shop Lactivate's Silver Nursing Cups, you can do so by visiting the link here.
—
Still feel unsure about Silver Nursing Cups or need help deciding what's best for you? We're here to answer all your questions!
You can contact us Monday to Friday, 10am-3pm via phone (1300 781 275) or email (info@milkbarbreastpumps.com.au) .