If you've been following us on social mediathen you would have seen us post about Junobie Reusable Breastmilk Storage Bags, the brand new product launching here at Milkbar. We are super excited to be the Australian stockist for this world first product and have had loads of questions from mamas keen to find out more about these nifty milk storage bags! We've answered the most commonly asked ones below so that you can feel confident in both purchasing and using Junobie as part of your breastfeeding experience.
Junobie is THE solution for eco-conscious mamas who are keen to stop using or avoid plastic breastmilk storage bags. Junobie was founded by a mum who was sick of single use plastic and wanted a better solution for storing and transporting her liquid gold. You can find out more about how Junobie came about HERE.
How does a re-usable breastmilk bag actually work?
Junobie milk storage bags work in exactly the same way as your traditional milk storage bags with a key difference; they can be used again and again (and again and again!). This is all thanks to the material that they are made from. Instead of plastic which can degrade quickly or only be used a couple of times, Junobie Breastmilk Storage Bags are made from food grade silicone and free from BPA, BPS, PVC, Latex, and Phthalates. This means they're able to stand up to regular cleaning and use (and everything else #mumlife has to throw at them!) All you need to do after use is wash, dry and you're ready to go for round two.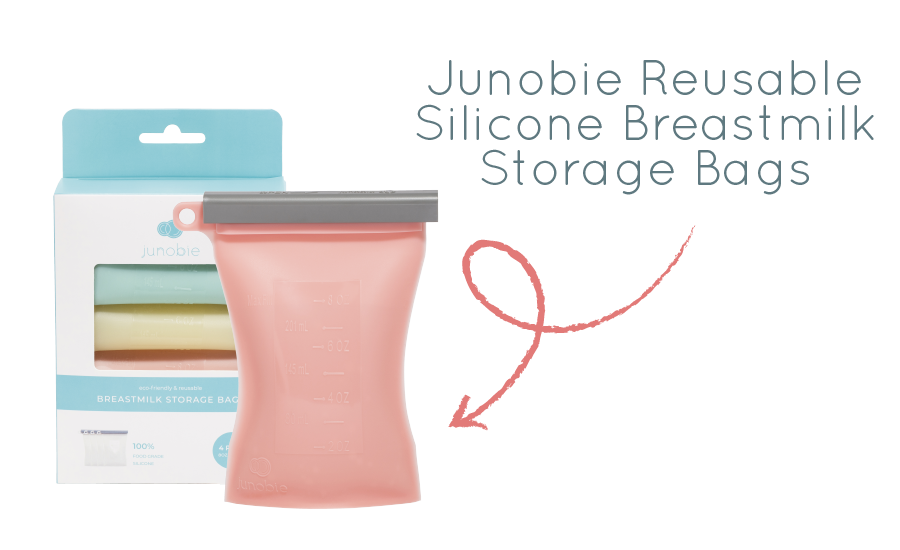 They most certainly are. Because nobody has got time for leaks, the slider at the top of the bags ensures an air-tight, leak proof seal at every use. You can store your bags standing up, lying flat, even upside down if you wanted to (though we're not sure that you would!) and you can be sure that you won't lose any of your precious liquid gold.
YES! Junobie milk storage bags can be labelled using a dry erase marker. You can also use permanent marker but will need a magic sponge and/or alcohol/whiteboard marker remover to remove. You can also use sticky labels though they may not stand up to regular washing.
Can they be used in both the fridge and freezer?
They can! Junobie bags are designed to maximise storage in a compact way. They are both fridge and freezer safe and can be stored standing up or lying flat. They are also microwave, dishwasher and boil safe.
Junobie milk storage bags hold approximately 180ml of liquid. This allows for expansion during freezing.
How do I keep them clean?
Junobie milk storage bags can be washed with warm, soapy water or popped in the dishwasher. You're also able to purchase a Junobie Breastmilk Bag Brush which can squeeze into the corners and ensure the bags are fully clean before next use.
We are really excited to introduce Junobie to the Milkbar community. As a brand, we have moved away from stocking plastic breastmilk storage bags in favour of more eco-friendly, longer lasting and sustainable products and Junobie ticks all of those boxes!
You can check out the video below for more information on using Junobie.
Junobie is now available in our online store here for Australian and New Zealand customers.