Cutting back on plastic and disposable products isn't easy when you're a parent. From nappies to food pouches, those brightly coloured plastic toys beloved by kids of all ages to baby wipes, there's a whole heap of 'stuff' involved in raising kids.
For the majority of us, consciously moving away from single use, non recyclable/biodegradable products is something we are actively committed to, but it can become overwhelming at times, especially working out where to start.
While these easy eco-friendly product swaps aren't going to change the world overnight, they help us to play a small role in the greater good.
5 Easy Eco-Friendly Product Swaps for Parents
1. Re-think your nipple care
From catching letdown to healing sore and cracked nipples, the Lactivate range has you covered for eco-friendly products that can be reused many times over to help you manage while breastfeeding. The majority of women need breast pads in the early days, weeks and months of breastfeeding. It's not uncommon to have to change your pads regularly throughout the day meaning that you go through a lot of pairs fairly quickly. Swapping to washable, reusable breast pads can make a huge difference in the waste-stakes, considerably cutting back on your rubbish levels. We love these Lactivate Nursing Pads which are made from super absorbent microfibre and bamboo to keep you dry and comfy. Likewise, while establishing breastfeeding, it's quite common to experience sore or cracke nipples. That's why we highly recommend the Lactivate Silver Nursing Cups which can aid in healing cracked or sore nipples. You can read all about it here.
There's a lot to be said for the advent of baby food in a pouch. Easy and convenient, especially when you're on the run, it's a handy product to have stashed in the pantry. All those pouches however can add up. Upgrading to some reusable pouch products means that you can not only store your homemade baby food but have all the convenience and portability, without the single use plastic.
3. Un-plastic your breastmilk
Whether you're building a milk stash or need to pump for a return to work or similar, you'll need to store your breastmilk. The most common way to do so is in single use plastic milk storage bags which you can fill then pop in the fridge. Junobie Reusable Breast Milk Storage Bags are made from FDA approved food grade silicone and are free from BPA, BPS, PVC, Latex, and Phthalates. They can be completely leak-proof and can be stored both standing up and lying flat (not to mention stacked on top of each other). And once you're done breastfeeding? They make perfect snack pouches for toddlers and pre-schoolers! Have a look at the products below and store your milk in all-new ways!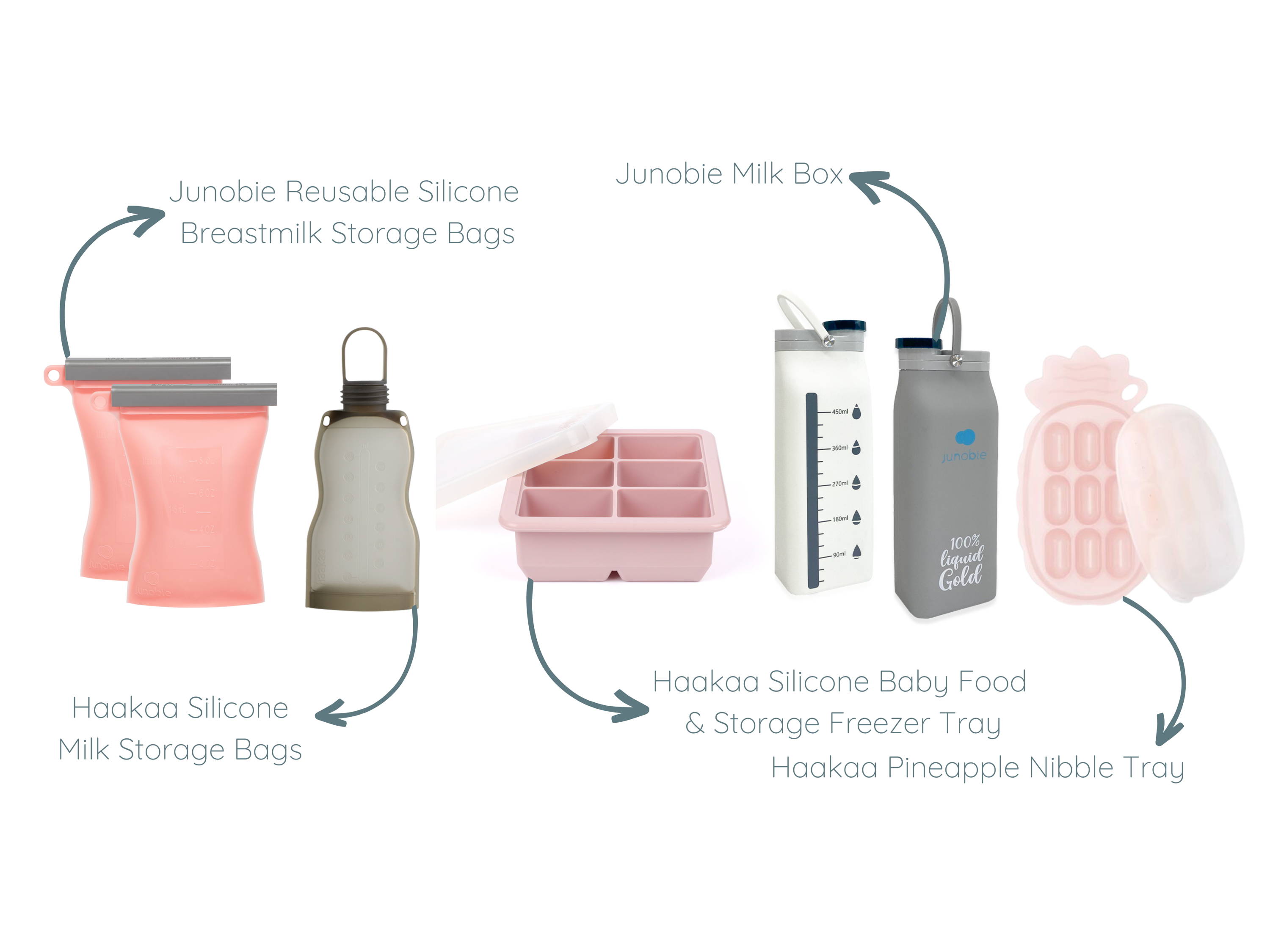 A period cup that is! Pads and tampons are responsible for around 200,000 tonnes of waste per year along with a hefty amount of marine debris, thanks to flushing. Switching to a menstrual cup is one way that you can make a difference to all that waste. Menstrual cups are usually made from silicone or rubber and are designed to be worn internally to collect the blood that would otherwise be absorbed by a pad or tampon. While they can take some getting used to, menstrual cups are an increasingly popular choice, not only due to their environmentally friendly status but also due to them being more cost effective with minimal risk of things like toxic shock syndrome which can be associated with tampon use. Menstrual cups can also be in place much longer than a tampon meaning less daily changes.
5. Make some lunchbox adjustments
Depending on the age of your kids, lunchboxes will either be a current or future part of your life (and a big one at that). Many daycares, preschools and schools have a 'nude food' policy where they encourage food without wrappers or plastic. Making some adjustments to how you store your child's food both at home and on-the-go can be a simple way to instigate some eco-friendly changes. Swapping plastic wrap for beeswax wraps, single use zip lock bags for more durable, reusable alternatives and investing in leak-proof, compartmentalised lunchboxes will cut down on waste while keeping food fresh and easily accessible.