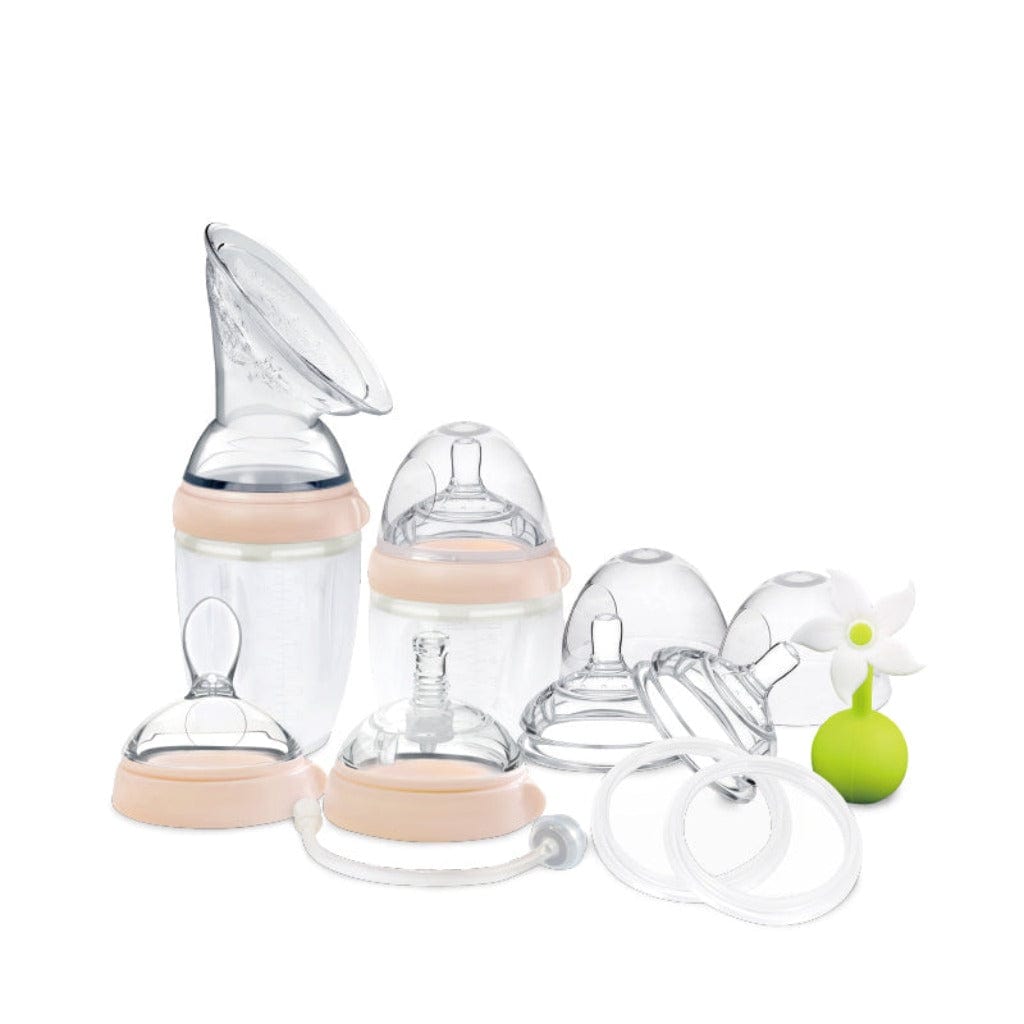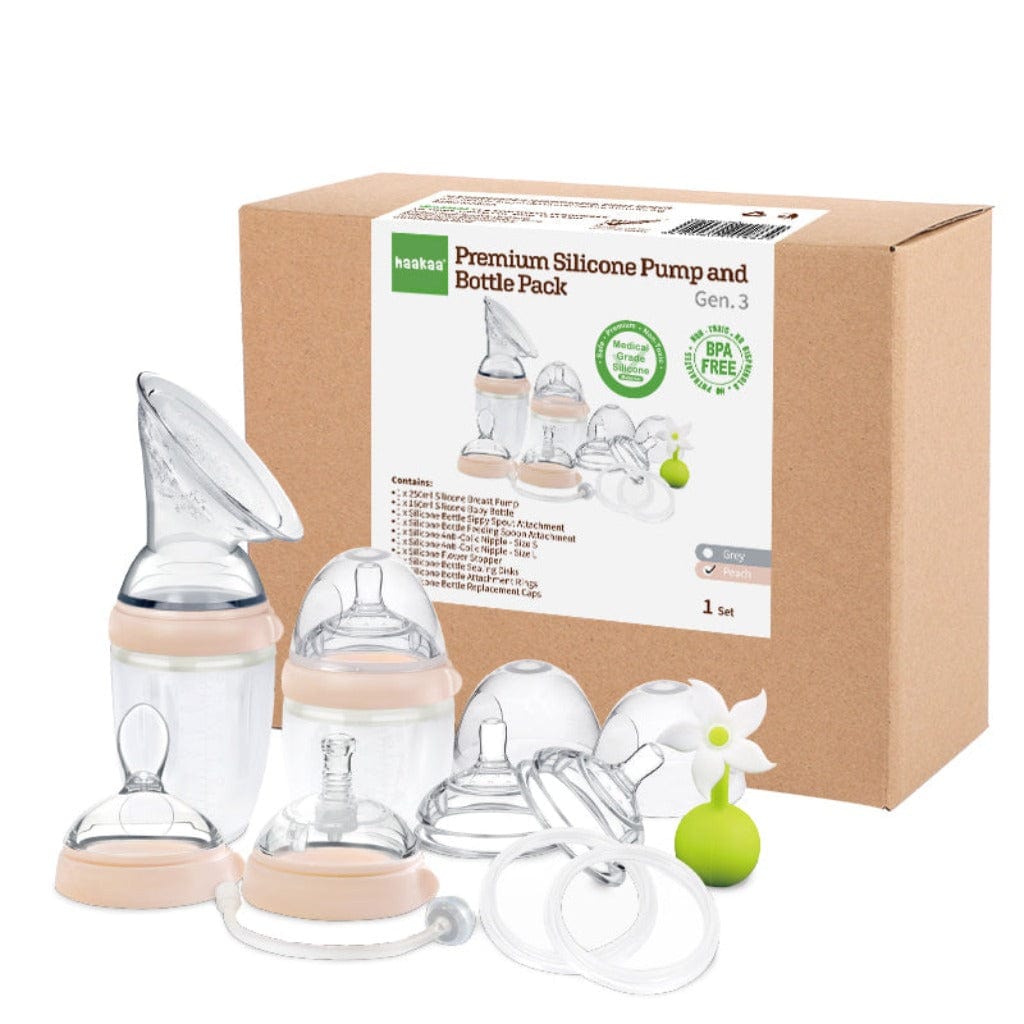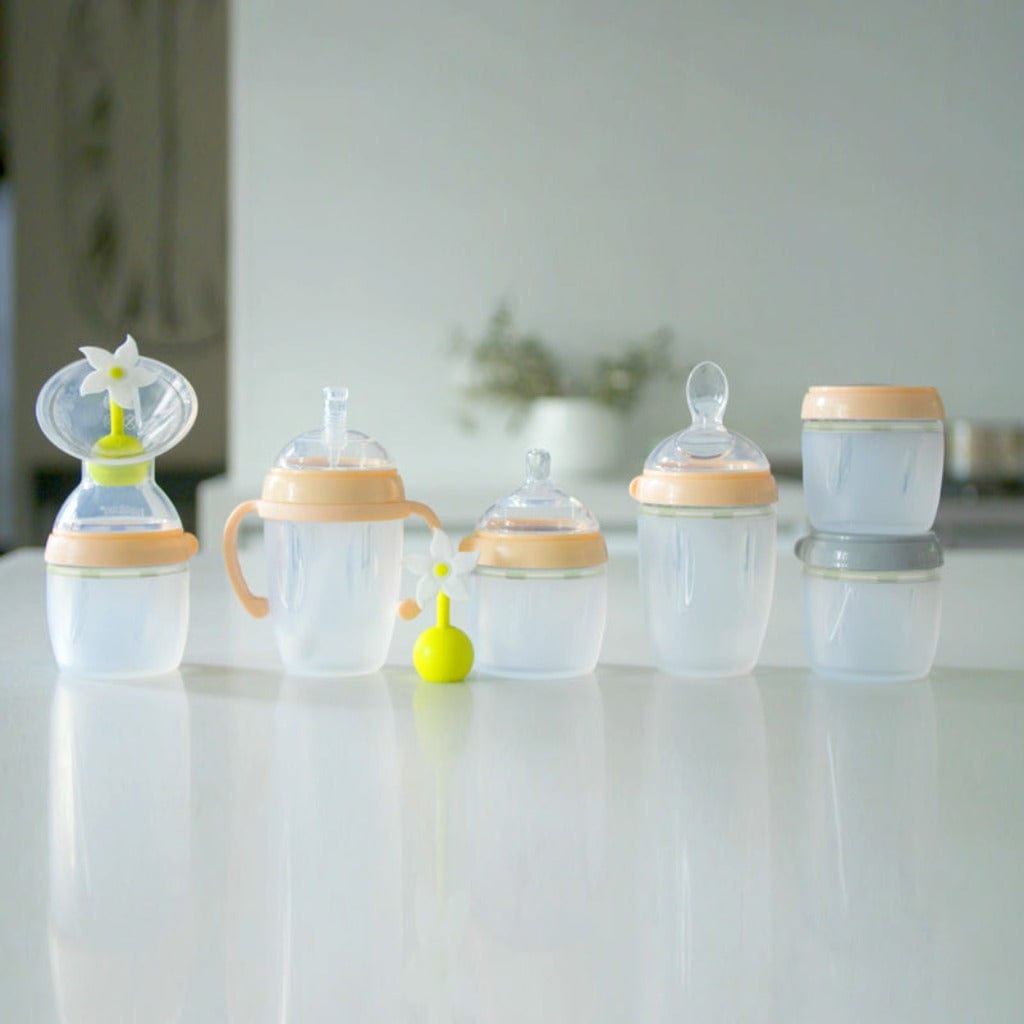 Haakaa Premium Generation 3 Pump and Bottle Pack
$119.00
Regular price
$170.00
off
Description
Collect the entire Gen. 3 Silicone Pump and Bottle Series in the Haakaa Generation 3 Premium Pump and Bottle Pack!
Express, feed and store milk easily and effectively with Haakaa's world-first 5-in-1 feeding system. With a quick twist of the top, you can swap out your bottle attachment for any of the range of optional interchangeable attachments included in this box! We have our famous breast pump flange that lets you express directly into the bottle, a feeding spoon dispenser for when your baby moves on to solids, a sippy bottle top to help your independent toddler transition from a bottle to a cup and a sealing disk to preserve any leftover food or milk after feeding. This pack contains:

1 x 250ml Silicone Breast Pump
Our famous Haakaa Silicone Breast Pump has been reinvented again! We have kept the same simple and effective design that you know and love, except now you can express directly into a detachable silicone bottle! Made from food-grade silicone, this compact pump is perfect for long-distance plane or car rides, or simply anywhere you would like to express quickly and discreetly.
1 x 160ml Silicone Baby Bottle
The Haakaa Silicone Baby Bottle is made from food-grade silicone, which makes it uniquely soft and safe for your baby. It is easy for little hands to hold, and because the silicone is impact resistant, you can teach independence without worrying about breakages. The 160ml bottles included in this pack come with a slow flow teat.
1 x Silicone Bottle Sippy Spout Attachment
The Silicone Sippy Spout attachment is made of 100% silicone, making it safe to give to kids on the move without any risk of injury to delicate mouths. It also comes with an attached automatic straw to let them drink at any angle while on the go. The straw is weighted at the bottom, keeping the open end submerged in liquid at all times - even when the bottle is tipped upside-down!
1 x Silicone Bottle Feeding Spoon Attachment
The Silicone Feeding Spoon Head attachment transforms your Gen. 3 Silicone Bottle into the perfect way to feed your little ones without the potential mess of moving food back and forth from the container to their mouths! You can use it for all sorts of food, including yoghurt and purees, and it is great for teaching your little ones to feed themselves without food going all over the place!
1 x Silicone Anti-Colic Nipple - Size S (Slow Flow)
The Haakaa Silicone Anti-Colic Nipple transforms your Gen. 3 Silicone Bottle into a soft, safe baby bottle. Made from 100% silicone, this soft, naturally-shaped silicone nipple is designed to closely mimic breastfeeding.
1 x Silicone Anti-Colic Nipple - Size L (Variable Flow)
The Haakaa Silicone Anti-Colic Nipple transforms your Gen. 3 Silicone Bottle into a soft, safe baby bottle. Made from 100% silicone, this soft, naturally-shaped silicone nipple is designed to closely mimic breastfeeding.
1 x Silicone White Flower Stopper
The Haakaa Silicone Flower Stopper sits tight in the neck of your breast pump to preserve the beneficial properties of breast milk while preventing any accidental spills.
2 x Silicone Bottle Sealing Discs
Our Silicone Bottle Sealing Disc transforms your Gen. 3 Silicone Bottles into the perfect container for storing breast milk, liquids and snacks, or for taking food on the go! They're completely airtight, keeping food fresh and preserving the beneficial properties of breast milk that are so important for our growing little ones.
2 x Silicone Bottle Attachment Rings
Simply place your Haakaa Gen. 3 silicone attachment into the Silicone Bottle Attachment Ring and screw on to the top of your Gen. 3 Silicone Bottles to transform your bottle into one component of our world-first 5-in-1 feeding system!
2 x Silicone Bottle Replacement Caps
The Generation 3 Silicone Bottle Replacement Cap fits over the top of your Gen. 3 Baby Bottle, Sippy Bottle and Feeding Spoon bottle to stop dust and other airborne nasties from settling on the silicone attachments between uses.
Features
Express breast milk using the power of natural suction!
Made with high-quality food-grade silicone
Easy and effective milk expression
No cords or batteries required
Compatible with all Generation 3 Silicone Bottle range attachments
Small, portable and convenient
Accommodates different breast sizes
Safe in microwaves, boiling water and sterilisers
BPA, PVC and phthalate-free
Care Instructions
Clean after each use. We strongly recommend cleaning and sterilising your Haakaa silicone products with any steam sterilising system or by boiling in water for 2-3 minutes. Do not use any bleach-based agents or sterilising tablets to clean this product. Do not use UV sterilisers to clean this product as it may impact the product's lifespan. Do not boil the PP attachment ring or inside rim of the pump/bottle base.

Caution: Check product condition regularly. Replace if this product shows any signs of damage. Do not store near any sharp objects. Only soft bristle brushes or soft sponges should be used to clean this product as hard scourers may scratch the surface. Exposure to detergent may make the silicone in this product appear cloudy. This product is not a toy. Do not use this product for anything other than its intended use. Store product in a cool, dry place and avoid direct sunlight. Adult supervision is required.
Same Day Dispatch Before 12pm AEST
Buy Now Pay Later- Afterpay, Klarna, & Zip
Shipping & Customer Care
Fast shipping
We dispatch orders FAST! Orders before 12pm AEST are sent same day.
No nasty surprises. Shipping is $8.95 or $14.95 for express Australia wide.
Free Shipping for orders $150+
Local Pick Up Available from Belrose NSW 2085
Returns
We have a 30 day returns policy for unopened and unused products. Some exclusions do apply including personal care products such as breast pumps. Thank you for your understanding.
Get in touch
Have a question? We are happy to help!
Reach out to us Mon- Fri 8am-4pm.
Email: info@milkbarbreastpumps.com.au
Phone: 1300 781 275
About us
From our family to you
Established in 2015, we are an Australian family run small business committed to providing you with trusted and high quality products that support and nurture the special bond between mother and baby.
Your Go To Online Store
We carefully select products from trusted brands and only stock products good enough for own our families.
Items on our website are in stock. No drop shipping here. It's ready for us to bundle up and to ship directly from us to you.
Our Commitment
We are proud to support a number of charities who support mothers and their families as they transition into parenthood. We currently provide ongoing monthly support to the Gidget Foundation and Gunawirra.
Total 5 star reviews: 14
Total 4 star reviews: 0
Total 3 star reviews: 0
Total 2 star reviews: 0
Total 1 star reviews: 0
100%
would recommend this product
Love

Love that the parts are interchangeable. Easy to pull apart and put back together.

Great product

Love the interchangeable parts! So much time saved pumping straight into a storage container!!! I haven't used the bottle attachment yet but am excited for my daughter to give it a try.

Love my Haakaa

I love my Haakaa Gen 3 so much I had to order another one, it is so easy to use and can't go wrong with it at all.

A new mum essential

I love my gen 3 pump and bottle pack. Having limited storage it's great to have a product that has interchangeable parts and many different uses. My EBF Baby takes the bottles well and is now using the Sippy cup attachment for water. The pump itself was great for collecting colostrum in the weeks before my baby was born, and is a great size to chuck into your bag when going out and about without your baby. I recommend this product to all of my friends!

Lauren

Verified Buyer

Good quality items

Good quality items, delivered promptly and wrapped and packed well. Very happy so far but will be a few months before I use them.
Reviews Loaded
Reviews Added
Join our Newsletter
Sign up to receive special offers & breastfeeding tips and stories from our community.