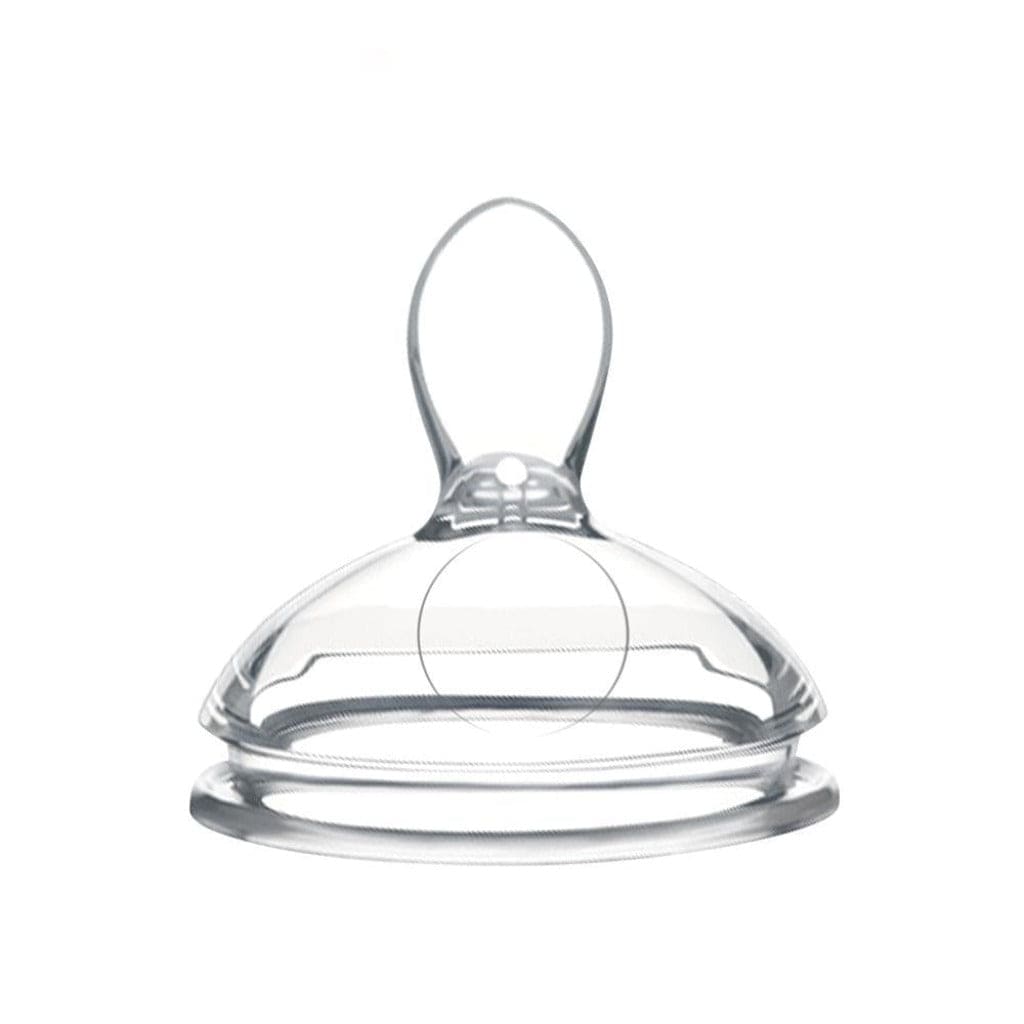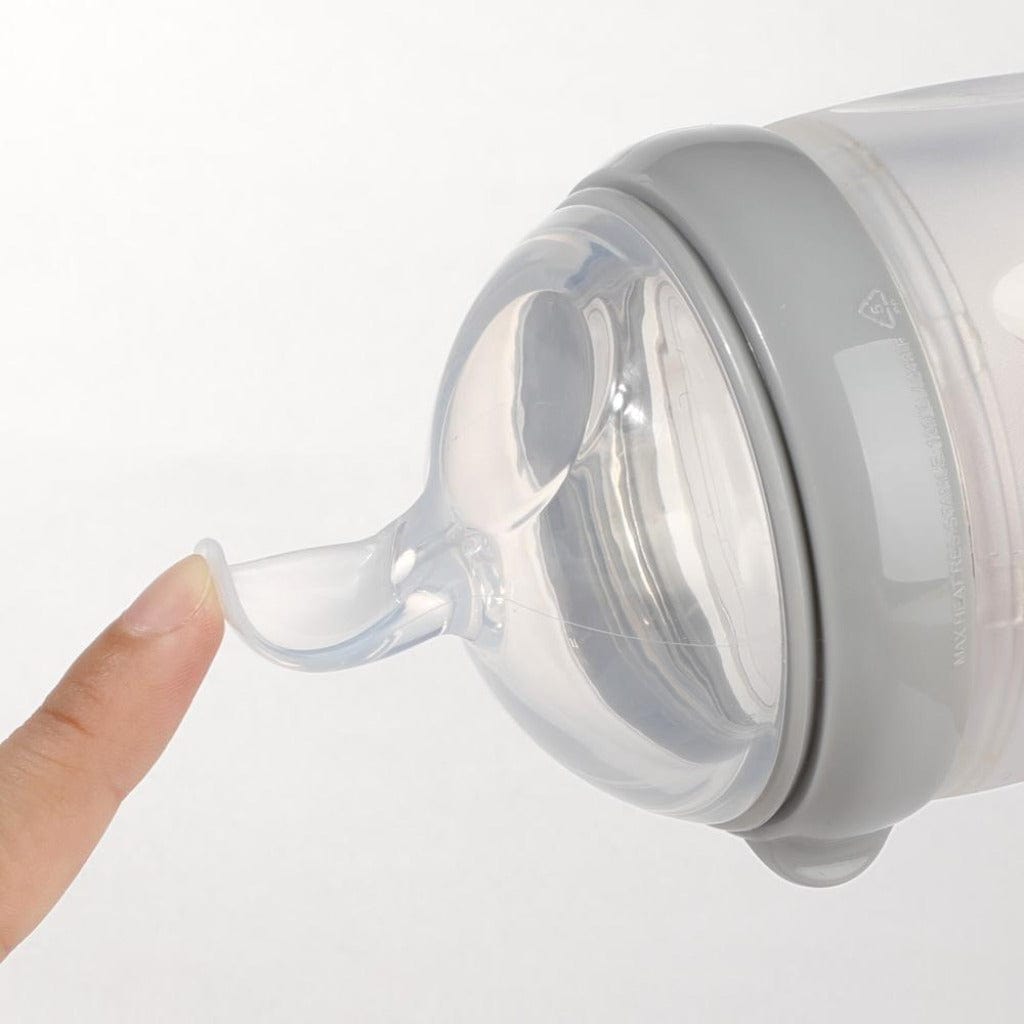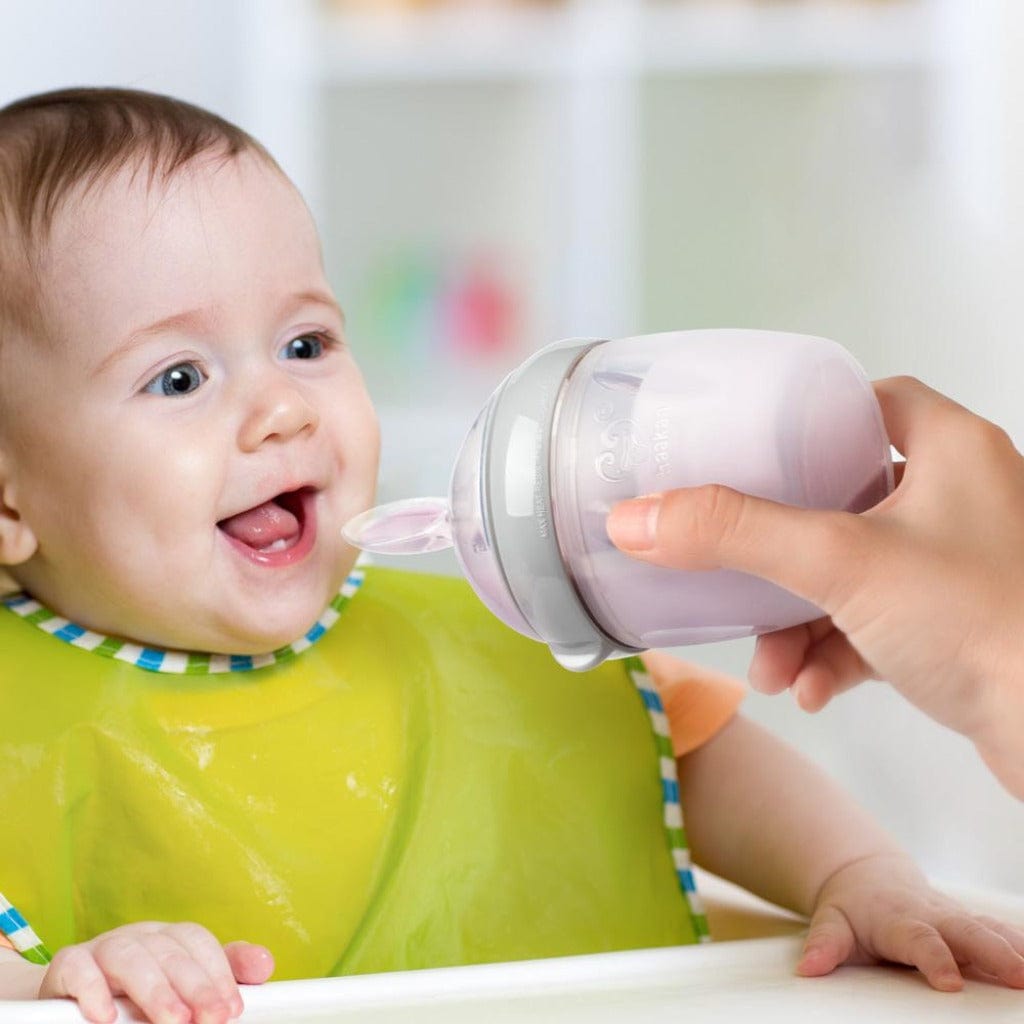 Haakaa Generation 3 Silicone Bottle Feeding Spoon Head
Description
The Silicone Feeding Spoon Head attachment is fully compatible with all Gen 3 Silicone Bottles, transforming them into the perfect bottle for feeding your little ones without the potential mess of moving food back and forth from the container to their mouths! You can use it for all sorts of food, including yoghurt and purees, and it is great for teaching your little ones to feed themselves without food going all over the place!
With a quick twist of the top, you can swap out your feeding spoon head for any one of our range of optional interchangeable Gen. 3 attachments (each sold separately). We have our famous breast pump flange that lets you express directly into the bottle, a baby bottle lid to feed your little one expressed milk, a sippy bottle top to help your independent toddler transition easily from a bottle to a cup, and sealing discs to preserve any leftover food or milk after feeding!
Features
Made of 100% food-grade silicone
Compatible with all Haakaa Gen 3 Silicone Bottles
Soft and gentle on little mouths
Safe in microwaves, sterilisers and boiling water
BPA, PVC and phthalate-free
Care Instructions
Clean after each use in warm soapy water. Do not use any bleach-based agents or sterilising tablets to clean this product. Do not boil the PP attachment ring or inside the rim of the pump/bottle base. Silicone components can be sterilised in a steam steriliser. Do not use UV sterilisers to clean this product as it may impact the lifespan of your pump.
Caution: Check product condition regularly. Replace if this product shows any signs of damage. Do not store near any sharp objects. Only soft bristle brushes or soft sponges should be used to clean this product as hard scourers may scratch the surface. Exposure to detergent may make the silicone in this product appear cloudy. This product is not a toy. Do not use this product for anything other than its intended use. Store product in a cool, dry place and avoid direct sunlight. Adult supervision is required.

Note: This product is an attachment for our Generation 3 Silicone Bottles, and will not work properly by itself. Silicone may absorb colours and discolour over time.
Same Day Dispatch Before 12pm AEST
Buy Now Pay Later- Afterpay, Klarna, & Zip
Shipping & Customer Care
Fast shipping
We dispatch orders FAST! Orders before 12pm AEST are sent same day.
No nasty surprises. Shipping is $8.95 or $14.95 for express Australia wide.
Free Shipping for orders $150+
Local Pick Up Available from Belrose NSW 2085
Returns
We have a 30 day returns policy for unopened and unused products. Some exclusions do apply including personal care products such as breast pumps. Thank you for your understanding.
Get in touch
Have a question? We are happy to help!
Reach out to us Mon- Fri 8am-4pm.
Email: info@milkbarbreastpumps.com.au
Phone: 1300 781 275
About us
From our family to you
Established in 2015, we are an Australian family run small business committed to providing you with trusted and high quality products that support and nurture the special bond between mother and baby.
Your Go To Online Store
We carefully select products from trusted brands and only stock products good enough for own our families.
Items on our website are in stock. No drop shipping here. It's ready for us to bundle up and to ship directly from us to you.
Our Commitment
We are proud to support a number of charities who support mothers and their families as they transition into parenthood. We currently provide ongoing monthly support to the Gidget Foundation and Gunawirra.
Join our Newsletter
Sign up to receive special offers & breastfeeding tips and stories from our community.