When buying a new breast pump it is important to make sure that the breast shield not only works for your expressing needs and lifestyle, but also that it's comfortable and easy to use, so you can get the maximum milk for your efforts.
A breast shield or flange is the funnel on a breast pump that attaches to your breast and draws the nipple out, creating suction and allowing your milk to flow out of your breasts and into the storage container or bottle.
It's important to look at the whole breast pump and choose one with the features that are going to be the most effective and convenient for you. See our Guide to Choosing a Breast Pump for more details.
Remember too that you may need several different size flanges for different stages of nursing, as your breasts will change over the course of your pregnancy and postpartum journey.
The size of the breast shield refers to the millimetre width of the opening. All breast pumps come with a breast shield or flange with a 'standard' size that varies by brand.
If the standard size breast shield that comes with your breast pump is not comfortable or you are experiencing difficulties with pumping then most breast pump brands have additional breast shields sizes that will work with your existing pump.
Am I using the correct breastshield size?
If you answer yes to one or more of the following questions, you may be using the incorrect breastshield size.
- Do you feel discomfort when pumping?
- Does your nipple rub against the side of the flange?
- Do you see excess areola pulled into the flange?
- Do you see any redness of whiteness?
- Do you feel unexpressed breastmilk after pumping?
Finding the Right Fit: How do I pick the right size for me?
In order to find your optimal breast shield size, you can measure your nipple diameter:
Using a ruler or measuring tape, measure the diameter of your nipple at the base (across the middle) in millimeters (mm). 1 cm = 10 mm. Do not include your areola.
Allow at least 4mm (2mm either side of the nipple) when selecting your breastshield size. Please refer to the Medela Sizing Guide image for further explanation.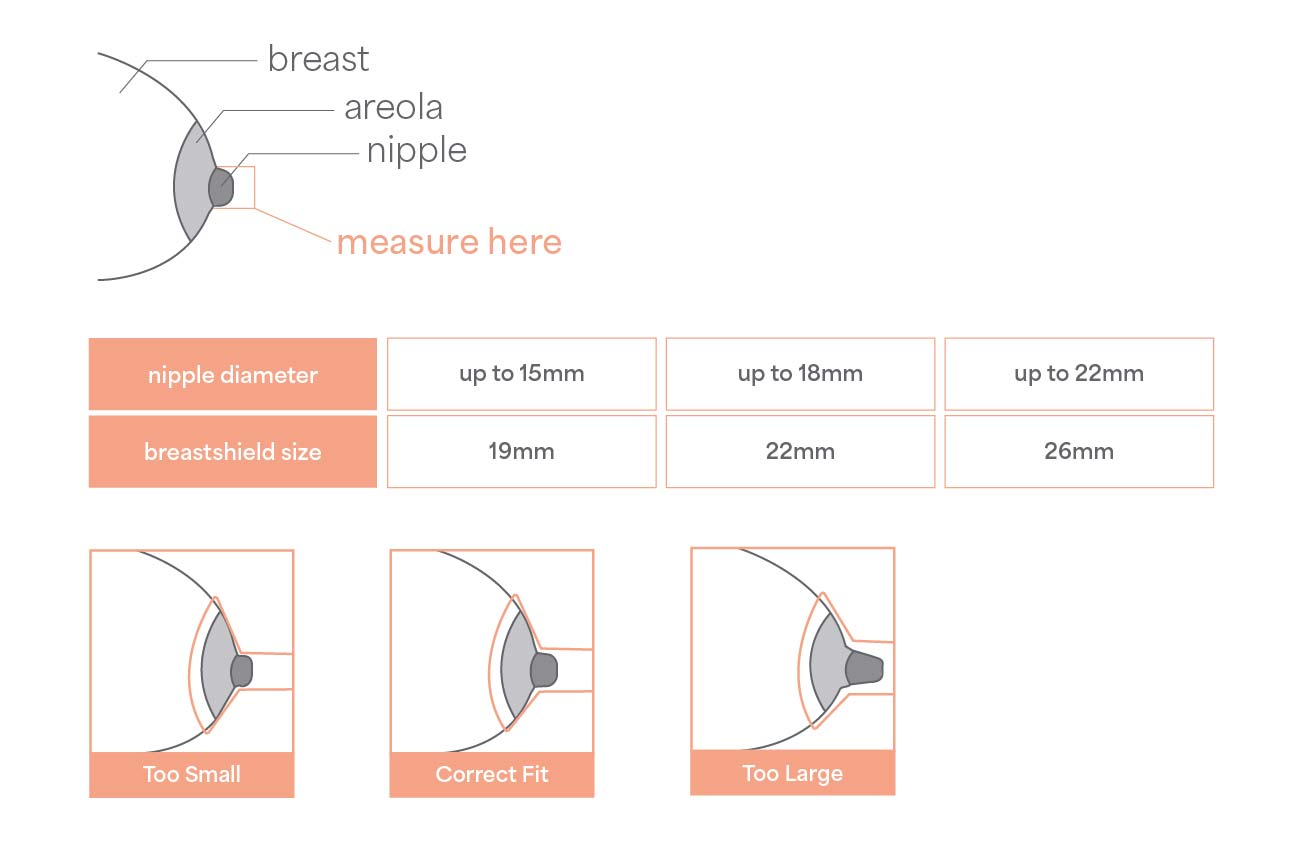 You should feel a gentle rhythmic pulling during expressing and your breast should feel empty and soft once you're finished. Pumping breast milk should never ever be pain
Your nipple should move freely within the flange and not rub against the sides. Expressing should not be painful or make your nipples sore or chafed. If this is happening then it is an indication that you need a larger size breast shield.
Your nipple will be pulled into the funnel of the flange, but your areola should not be. If breast tissue is being pulled into the breast shield, then it means you need an insert that will create a narrower opening.
Medela breast pumps come with a standard 24mm breast shield and have both smaller and larger options available
– Small: 21 mm
– Medium: 24 mm (the size included with all Medela breast pump kits)
– Large: 27 mm
– X Large: 30mm
– XX Large: 36mm
To view our range of Medela PersonalFit breastshields please click here.
Unimom breast pumps come with a standard 24mm breast shield. Unimom provide a larger breast shield as well as a silicone massager to create a narrower fit. This allows you to customise your breast pump to fit you and allow for more comfort during expressing. These breast shields and attachments are compatible with all Unimom breast pumps:
Ameda breast pumps use a standard 25mm breast shield and have a range of breast shields and inserts that both allow for a narrower and wider fit. These breast shields and attachments are compatible with all Ameda breast pumps:
Ameda Flexishield Areola Stimulator– 21mm
Ameda Reducing Insert– 22.5mm
Ameda Custom Fit Breast Flange M/L– 28.5mm inserts, 30.5mm breast flanges
Ameda Custom Fit Breast Flange XL/XXL– 32.5mm inserts, 36mm breast flanges
If you have any purchasing questions please contact Milkbar Breastpumps on 1300 781 275 or email info@milkbarbreastpumps.com.au. We love helping breastfeeding mums :)
If you are struggling to express milk or are worried about your milk supply then we recommend you contact your health care professional or an IBCLC.