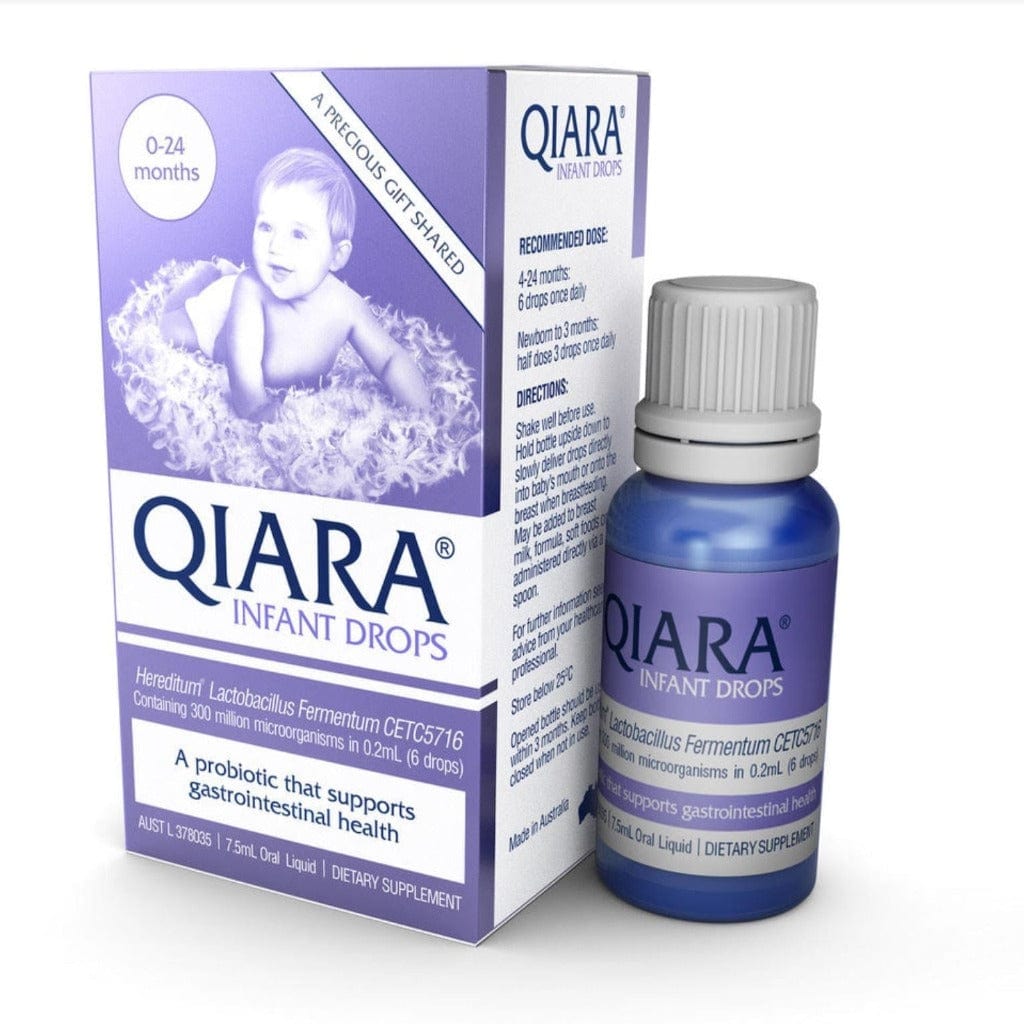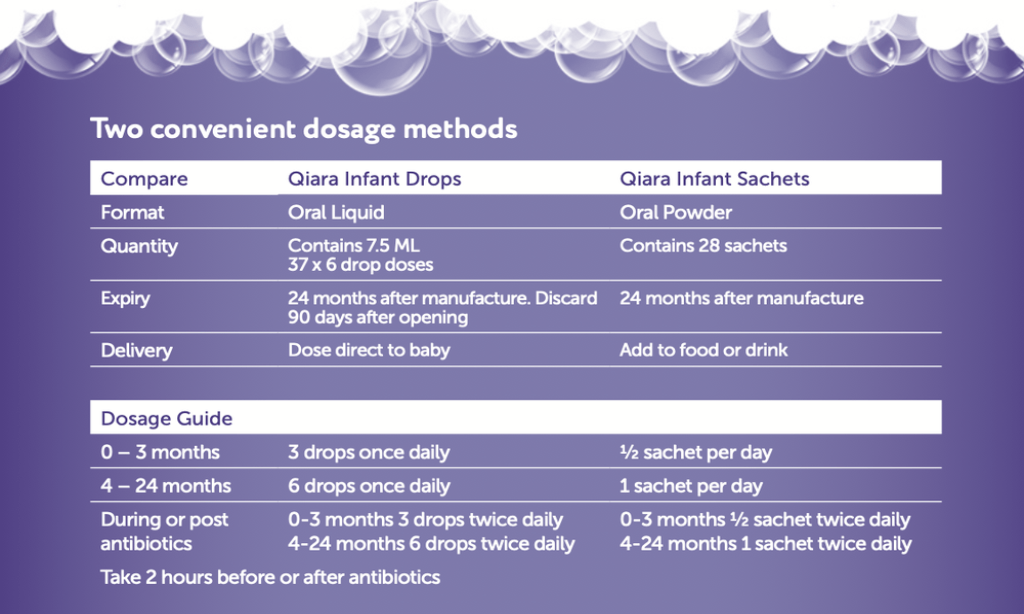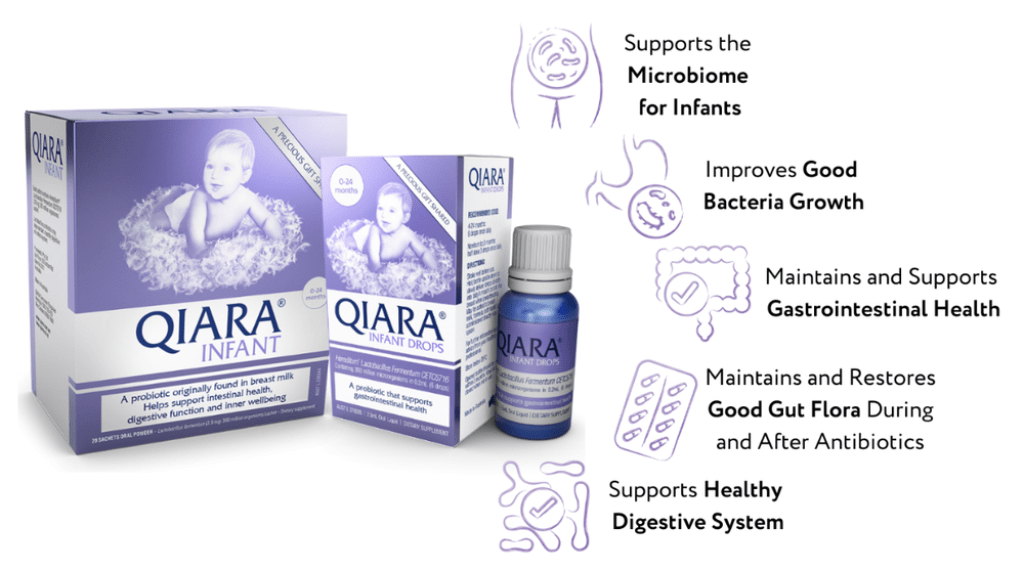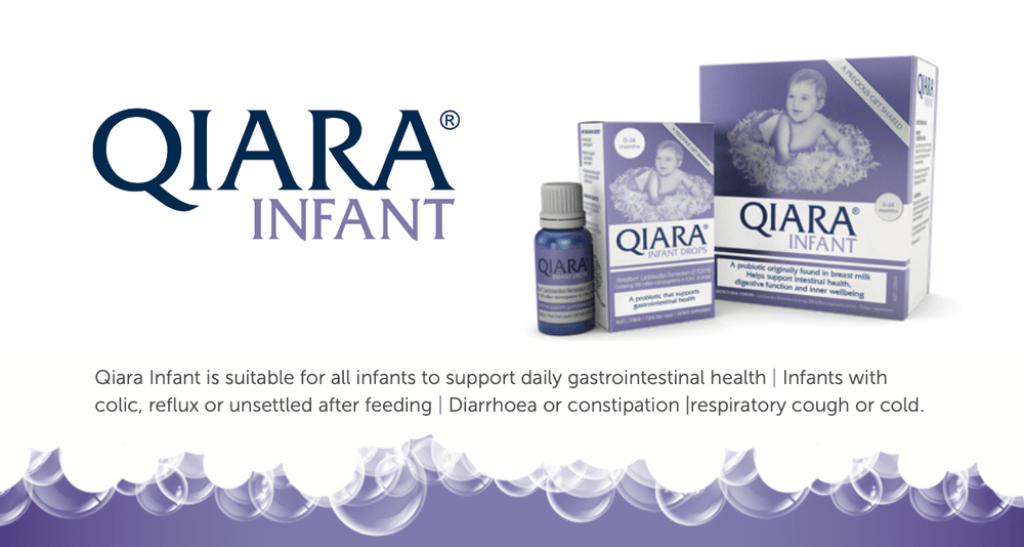 Qiara Infant Drops - 7.5 mL
Goes Well With
Description
Good bacteria for a healthy microbiome from newborn to 24 months
Qiara Infant Drops are suitable for all infants to support gastrointestinal health, infants with colic, reflux or are unsettled after feeding, have diarrhoea or constipation, respiratory cough or cold and infants with gastrointestinal issues.
A baby's gut microbiome is influenced by its mother's microbiome in the womb, birth mode, breastmilk, formula feeding and other factors and becomes adult-like by 3 years of age. Gut health in infancy influences long term health outcomes.
Breastmilk provides natural probiotics for the development of an infant's digestive and immune system. Qiara Infant is a probiotic isolated from breastmilk making it an ideal natural therapy for babies 0-2 years especially if there has been antibiotic exposure.
QIARA Infant Drops is a ground-breaking new probiotic containing Lactobacillus Fermentum CECT5716 (2.6mg per sachet) originally isolated from healthy human breast milk which has been specifically formulated for Infants aged 0 - 24 months. 
Features
- Qiara Infant is free from dairy, lactose, yeast, eggs, gluten, nuts, soy and salt
- Contains no animal products, no artificial colours, preservatives or sweeteners
- Lactobacillus Fermentum supplementation has been extensively tested and trialled in clinical studies with well-documented benefits to both mother and baby. Truly a precious gift shared between mother and baby.
Care Instructions
New-born to 3 months: Recommended: 3 drops once daily

During or post antibiotics: Recommended: 3 drops twice daily

Infants 4-24 months: Recommended: 6 drops once daily

During or post antibiotics: Recommended: 6 drops twice daily

Administer Qiara Infant drops 2 hours before or after taking antibiotics

Continue for 5 days after antibiotic use then resume age-appropriate dose
FAQs
Why probiotics are important for you and your infant?

An infant's microbiome may be disrupted for many reasons including birth mode, premature birth, or hereditary factors and this may result in the gut and digestive issues. Supplementing with Qiara Infant may protect, restore and optimise your baby's microbiome for better health outcomes. Qiara Infant may relieve gastrointestinal symptoms associated with colic and other digestive conditions such as diarrhoea, constipation and reflux.
Same Day Dispatch Before 12pm AEST
Buy Now Pay Later- Afterpay, Klarna, & Zip
Shipping & Customer Care
Fast shipping
We dispatch orders FAST! Orders before 12pm AEST are sent same day.
No nasty surprises. Shipping is $8.95 or $14.95 for express Australia wide.
Free Shipping for orders $150+
Local Pick Up Available from Belrose NSW 2085
Returns
We have a 30 day returns policy for unopened and unused products. Some exclusions do apply including personal care products such as breast pumps. Thank you for your understanding.
Get in touch
Have a question? We are happy to help!
Reach out to us Mon- Fri 8am-4pm.
Email: info@milkbarbreastpumps.com.au
Phone: 1300 781 275
About us
From our family to you
Established in 2015, we are an Australian family run small business committed to providing you with trusted and high quality products that support and nurture the special bond between mother and baby.
Your Go To Online Store
We carefully select products from trusted brands and only stock products good enough for own our families.
Items on our website are in stock. No drop shipping here. It's ready for us to bundle up and to ship directly from us to you.
Our Commitment
We are proud to support a number of charities who support mothers and their families as they transition into parenthood. We currently provide ongoing monthly support to the Gidget Foundation and Gunawirra.
Total 5 star reviews: 3
Total 4 star reviews: 0
Total 3 star reviews: 0
Total 2 star reviews: 0
Total 1 star reviews: 0
100%
would recommend this product
Amazing

I couldn't believe how quickly I saw an improvement in my daughters reflux after starting these drops. I would say within a week she was vomiting less and much happier after feeds.

I wanted some probiotics that I could start for her as soon as possible (8 weeks old) as she's been on heavy antibiotics within days of being born. I also saw an increase in reflux symptoms after using medication to treat oral thrush. These drops have made a massive improvement in her well-being and symptoms of reflux have disappeared . Super happy!!

Service was also amazing.

Helped our windy baby

The drops have helped elevate our little man's wind pains which was contributing to colic coupled with some reflux.

Really happy with the product 👍🏼👍🏼👍🏼

Easy and tasteless

This product is convenient, easy to give and tasteless. I have no trouble giving it to my son.
Reviews Loaded
Reviews Added
Join our Newsletter
Sign up to receive special offers & breastfeeding tips and stories from our community.