For years you've asked and now's the time to finally reveal that we've listened! At Milkbar Breastpumps, we have gone to great lengths to design an electric breast pump that is efficient, affordable and practical for breastfeeding mums. Our goal is to support your breastfeeding journey and transition into motherhood. That is why when you started asking for a Wearable Breast Pump, our product development team went into overdrive to present you with the Wearable Breast Pump of your dreams; the Lactivate® ARIA™ Wearable Breast Pump.
This guide is designed to walk you through the Lactivate® ARIA™ Wearable Breast Pump, highlighting its exceptional features.
Are you looking for a comfortable, convenient, quiet and effective electric breast pump without compromisng on your day-to-day tasks? Meet ARIA™: A wearable breast pump that will undoubtedly change your pumping life. The Lactivate® ARIA™ wearable breast pump has been meticulously crafted to meet the needs of today's multitasking mothers. It's a lightweight, easy-to-use, electric, hands-free, cord-free, wearable breast pump that perfectly fits inside your nursing bra. The ARIA™ is innovative in design, is user-friendly and offers a discrete and hassle-free way to express milk. More importantly, it's a pump that works! With a strong up to 325mmHg suction capacity, it's comparable to hospital-grade pumps without the big chords or loud noises and even the big price tag attached. ARIA™ retails at only $139!
What are the different modes and how do they work?
Stimulation Mode is a fast pumping mode with a lighter suction that mimics a baby's natural sucking pattern to stimulate milkflow. This is usually used at the start of a pumping session to trigger a letdown. After 2 minutes, your pump will automatically switch to expression mode. If your milk begins to ow before 2 minutes, press the mode change button to manually switch to expression mode.
Expression Mode is a slower pumping rhythm for gentle and efficient milk collection after milk has started owing
Mixed mode is a mixed pumping rhythm of stimulation and expression modes.
Each of these three modes have 9 levels of suction strength so you can customise your pumping experience.
What are some key features of the ARIA™?
There's lots to brag about as far as we're concerned - but we'll let you be the judge of that!
It's Wearable: Fitting perfectly into your nursing bra, the discreet and hands-free design allows you to express milk comfortably while engaging in your daily activities.
Customise your Pump: Customise your pump to suit you just the way you like it. Built-in are 9 levels of stimulation mode, 9 levels of expression mode, 9 levels of mixed mode. With adjustable pumping modes and suction levels, you can tailor your pumping experience to match your comfort and milk flow desires.
Adjust to your perfect fit: Just in case you were worried about the sizing of the Silicone Breast Shield, we've got you covered! The ARIA™ also comes with 3 Breast Shield sizes included - offering you the option to customise your pump to your desired fit without having to buy additional accessories. From our experience using the correct breast shield size can improve your milk output and ensure that pumping isn't painful.
The Breast Shield Sizes included are 26mm along with 19mm and 22mm inserts. How do you figure out your perfect shield size? Simply refer to the diagram below: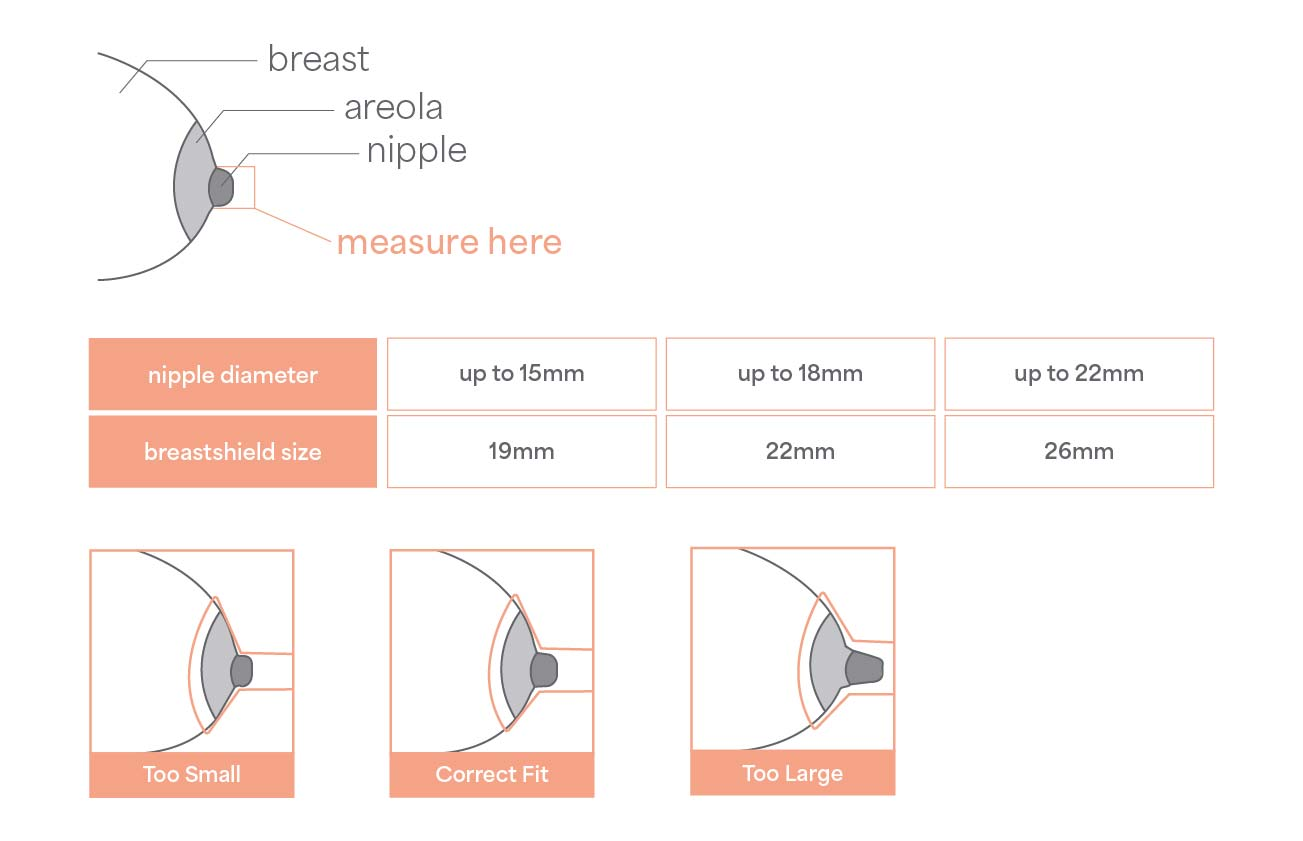 It's super quiet: The quiet motor ensures that you can pump while putting bub to bed, while on a Zoom call, or even in the grocery store. Gone are the days of loud, over-stimulating and annoying sounds!
Milk won't leak into your motor: The closed system to prevent breast milk from entering the pump motor while pumping (which can lead to mould), safeguarding your motor and precious breastmilk!
Touch-screen technology: The digital display features a setting memory function where the pump will remember your last used level, a timer and a backlight for easy tracking of pump sessions.
Portable and Easy to Clean: Compact design, only 5 pumping parts and easy to carry.
Made with materials safe for you and for bub: Crafted from BPA-free, food-grade silicone, the ARIA™ prioritises the safety of both mum and bub. It's also so much safer for the environment in the long-run!
The Lactivate® ARIA™ Wearable Breast Pump is best suited for mums who:
are looking for a portable breast pump option
would like to share the feeding responsibilities with a partner, friends or family
who would like a discreet, hands-free pump
mums looking for an affordable electric breast pump without compromising on quality
What our Mamas have to say
Rachael "I had only just been telling my friend about how I wasn't liking my current breast pump when Milkbar asked me to try their brand new wearable pump. It was like the universe has my back because it arrived the next day and I fell in love!
I used it three times to make sure and then immediately ordered a second one so I could double pump at the same time. The pump came with everything I needed included smaller size flanges for no extra cost (I take a 19mm) and all at a reasonable price. The 3 different modes and 9 different pump levels work well although I personally don't go above a 5. I had to go to the hospital for a small day surgery check up and the wearable pump was absolutely perfect to pump when I couldn't feed my daughter. Thank you Milkbar Breastpumps, I love my Lactivate® ARIA™ wearable breast pump [sic.]".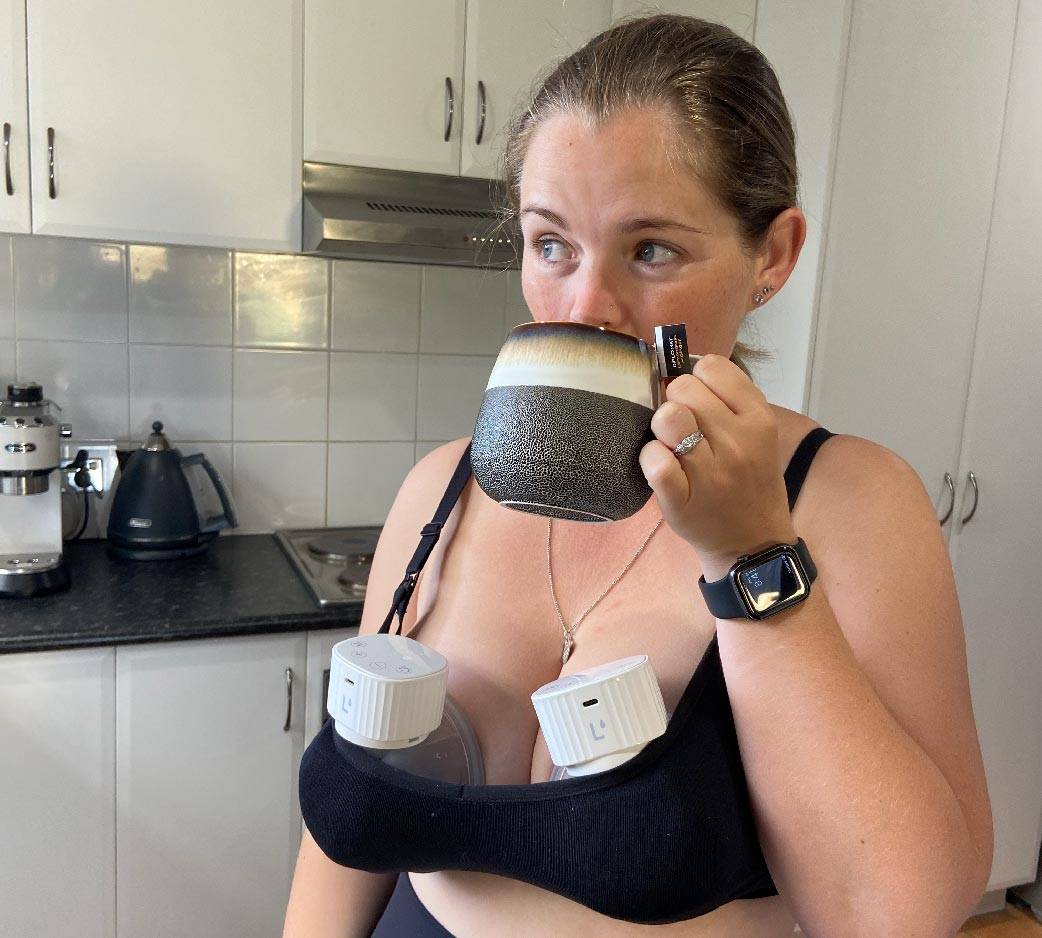 Shabina "I cannot fault it, it's easy to use, easy to clean, easy to charge, battery lasts a long time, fits well into all my nursing bras, and the suction is pretty great for a portable. I pretty mum pop it on and forget it's there. It doesn't hurt my nipples either. It's exceeded my expectations."