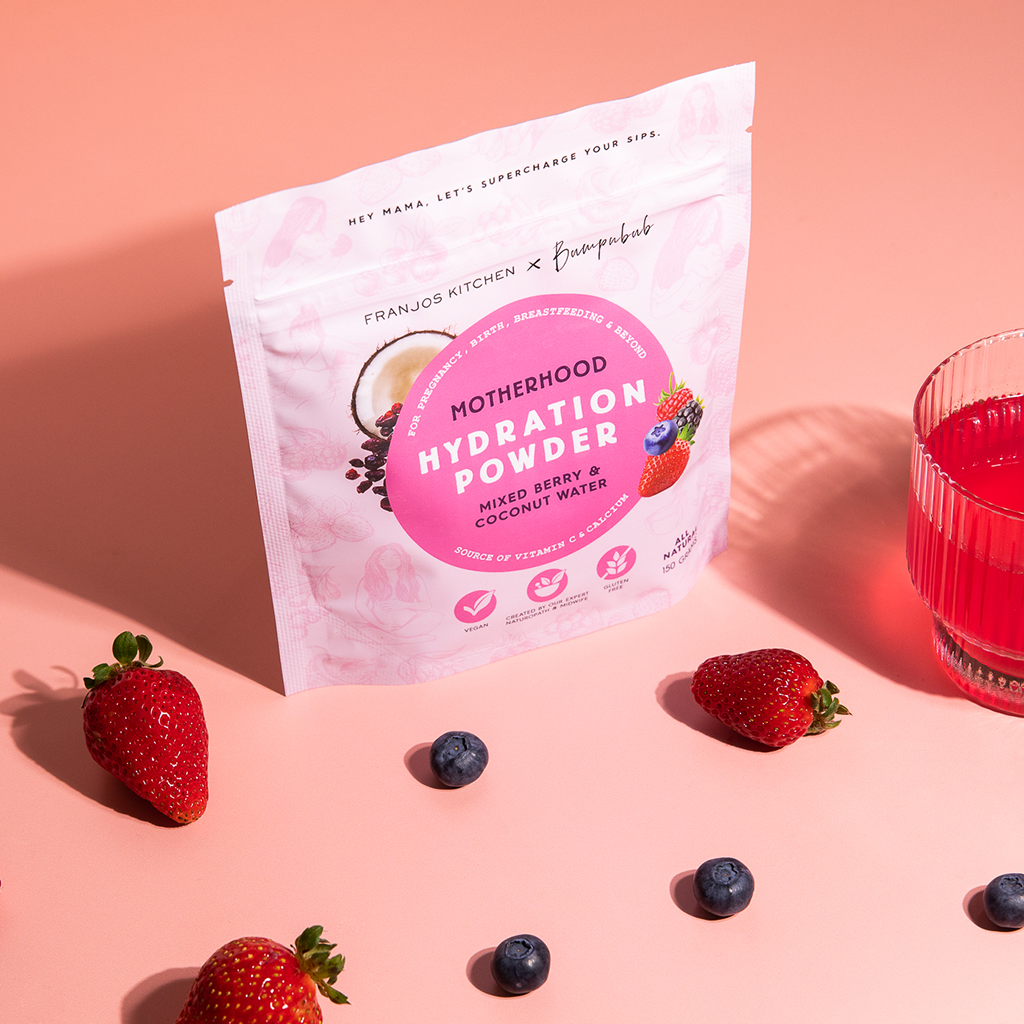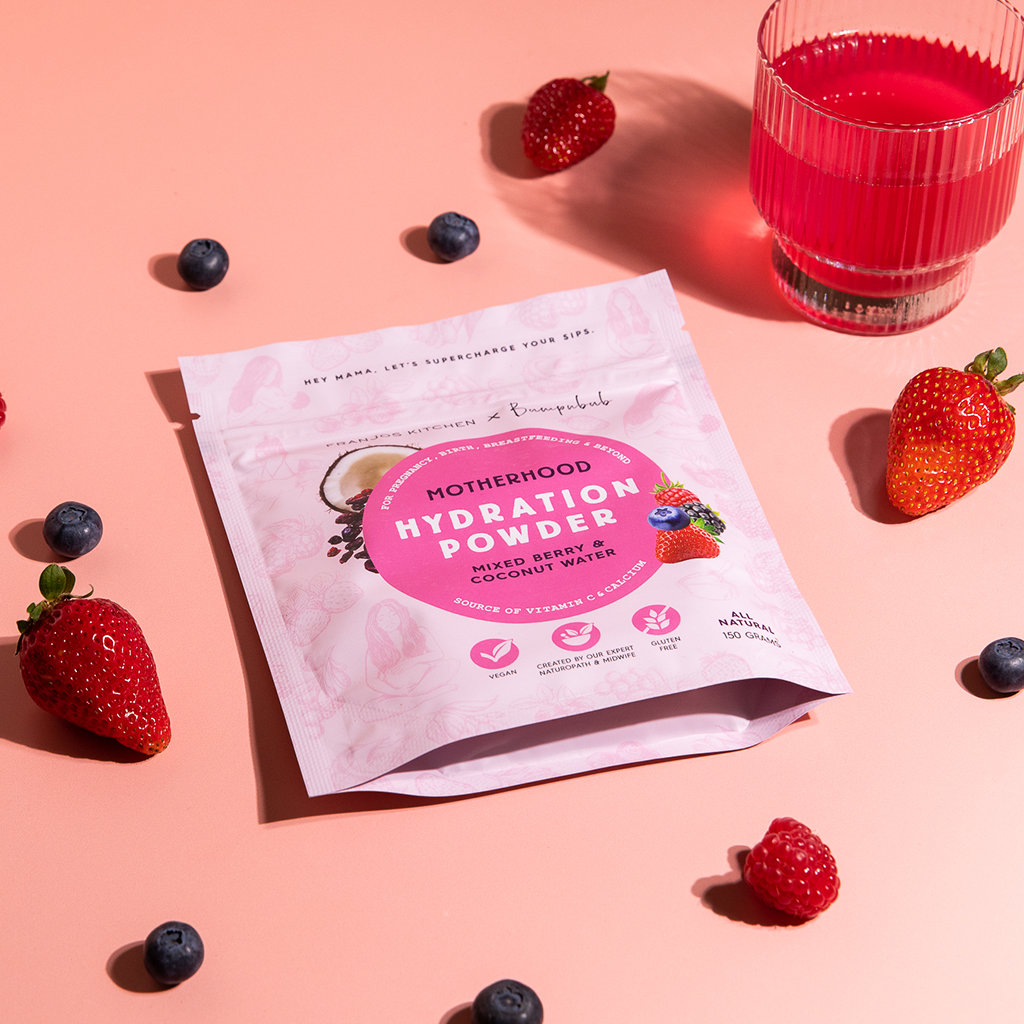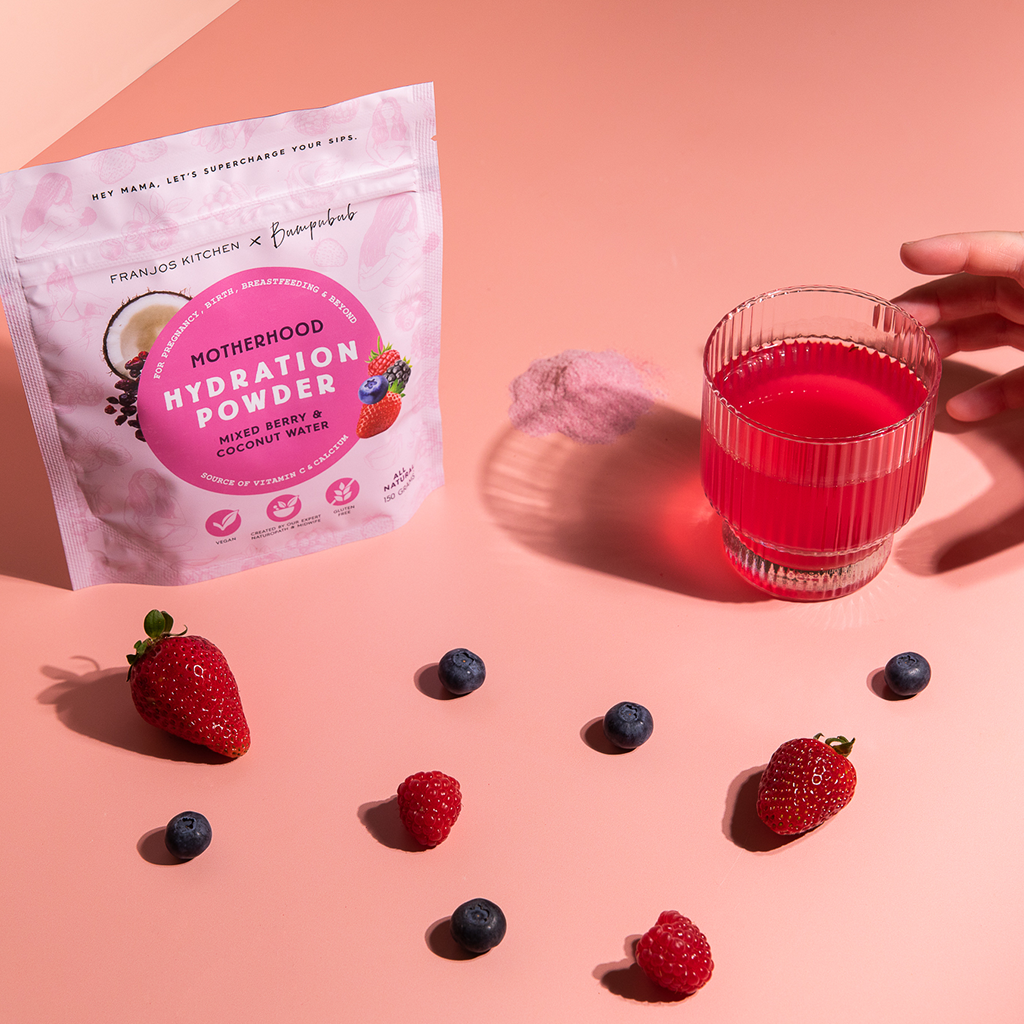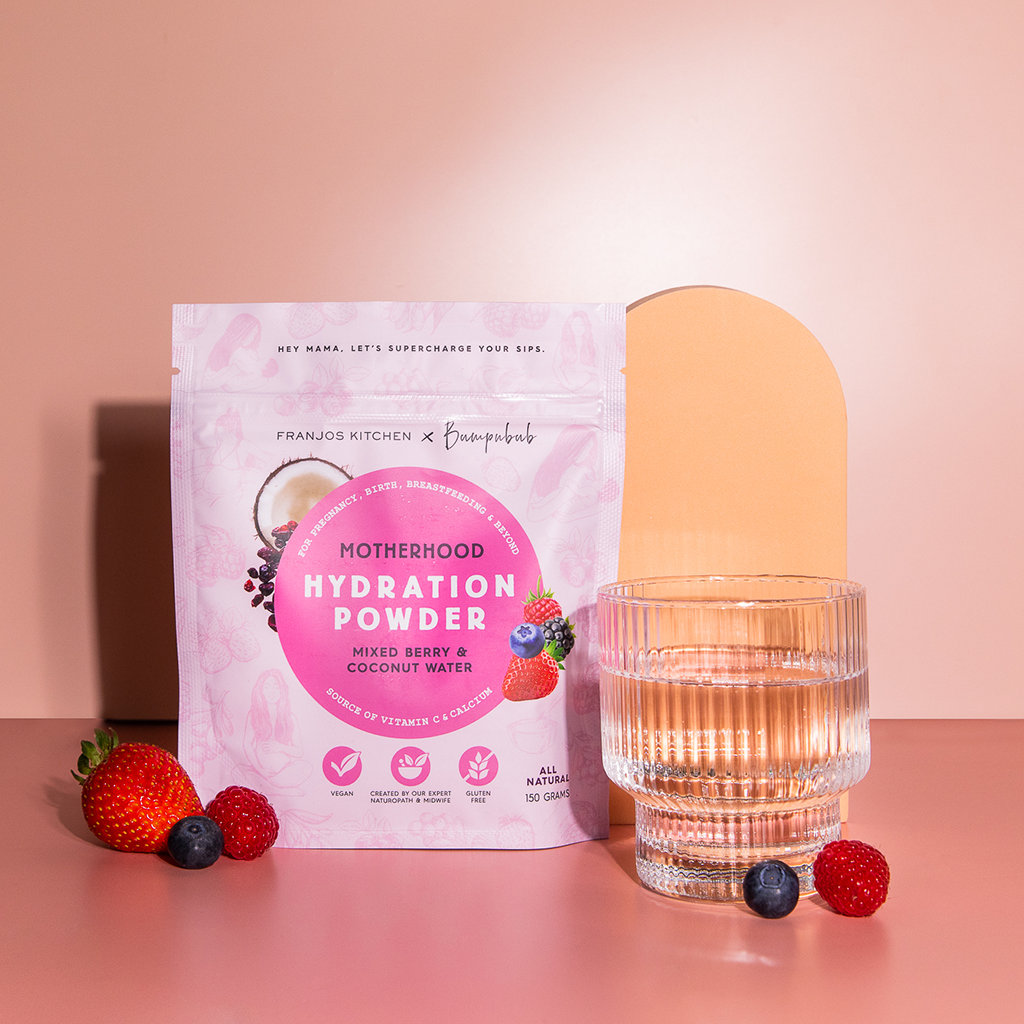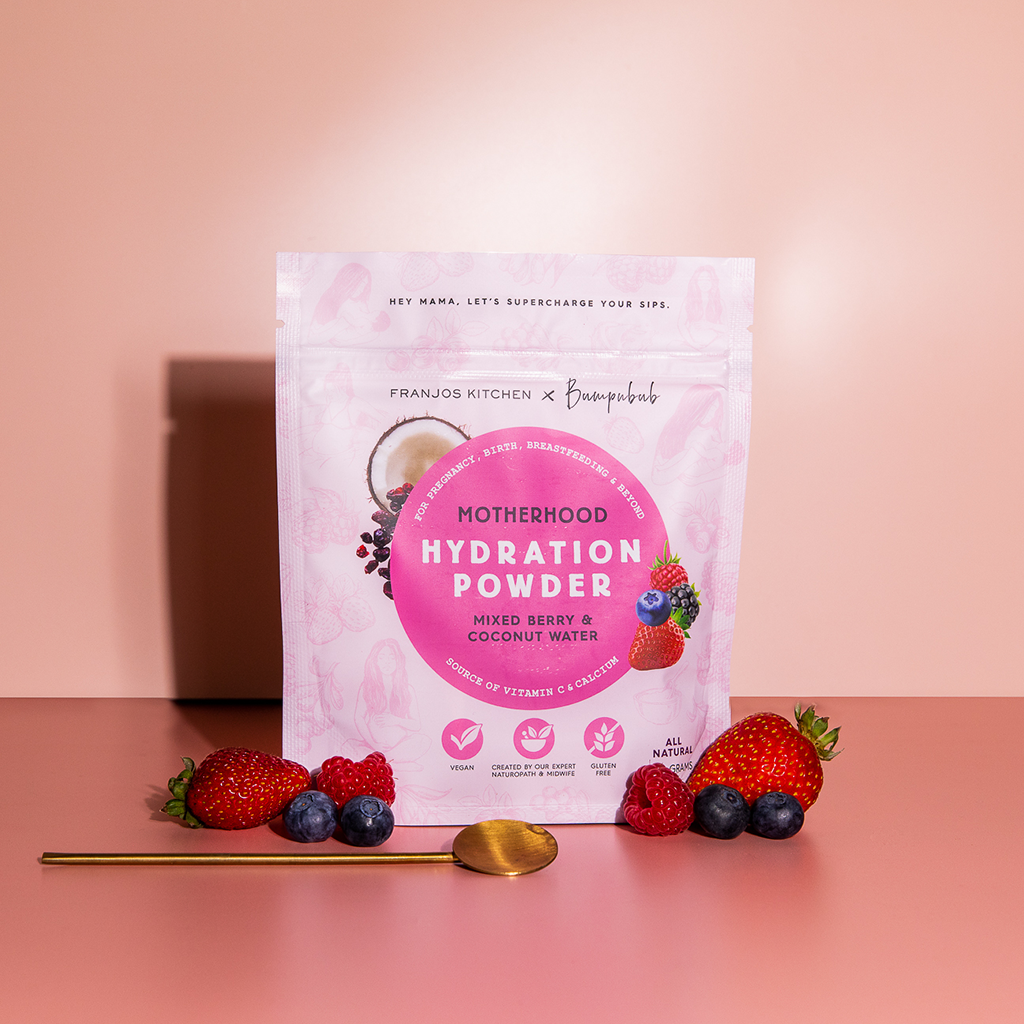 Franjos Motherhood Hydration Powder - Mixed Berry 150g
Description
Supercharged with electrolytes for pregnancy, birth, breastfeeding and beyond.
When you're growing, birthing or nursing a bubba, it's vital to stay hydrated.
During pregnancy, all-day sickness can turn water into a belly boomerang. During labour, that full feeling can have you struggling to sip anything. And when you're breastfeeding, plain ol' water just doesn't cut it on the electrolytes scale.
Franjos Motherhood Hydration Powder is a healthy way to hydrate your hardworking body. With the delicious taste of mixed berry and hydrating powers of coconut water, it'll turn your drink bottle into your bestie. 
Don't settle for those bright blue sports drinks or labour aids that claim to be healthy but are full of sugar and sodium. Quench your queasiness and boost your bosoms the natural way. With a drink that tastes great and leaves you feeling fresh, focused and friends with fluids.
While it has been specifically developed for mums, our hydration mix is suitable for the whole family including kids. It's a great option to hydrate after exercise. 

50 servings per pouch. 
Features
- Developed by mums including a naturopath and a midwife
- Blood orange flavour that your tastebuds and tum will love
- Very low in calories
- No caffeine, gluten or artificial flavours
- Packed with plant-based ingredients for the ultimate absorption
- Less than 1g of natural sugar and 5mg of sodium per serve
FAQs
What makes Franjos hydration powder the best on the mama market?
- Developed by mums including a naturopath and a midwife
- Mixed berry flavour that your tastebuds and tum will love
- Very low in calories
- No caffeine, gluten or artificial flavours
- Packed with plant-based ingredients for the ultimate absorption
- Less than 1g of natural sugar and 5mg of sodium per serve

Why can't I just drink water?
A lot of mums struggle to drink water during pregnancy due to nausea and all-day sickness. It can also be difficult to get enough fluids during labour as you get a feeling of fullness (and you're kinda busy focusing on other things). Whatever you can drink during this time needs to be as hydrating and nourishing as possible. Your body prefers water that has plant-based compounds and electrolytes in it. As a result, your body will absorb water that includes our hydration powder more readily than plain water. The result? Better hydration for your sipping efforts.

Why is hydration so important for mums?
Hydration is incredibly important during pregnancy, labour and breastfeeding. When you're pregnant, your body needs extra fluids to support your baby's growth and ensure optimal blood flow. Dehydration during labour can lead to higher rates of intervention including induction and emergency c-sections. When you're breastfeeding, you need an extra litre of fluid per day to support a healthy milk supply.
Dehydration can cause headaches, constipation, muscle spasms, brain fog, lethargy, fluid retention and dry skin. When you're well-hydrated, you'll feel more alert and energetic with better brain function, better digestion and plumper skin.

Who is the hydration powder for?
Mums at all stages of their motherhood journey need to ensure they are properly hydrated. Franjos hydration powder is perfect for you if:
- You're pregnant and struggling with nausea and all-day sickness
- You're preparing to give birth and want a healthy way to stay hydrated during the marathon of labour
- You're breastfeeding and struggling to keep your water intake up
- You're running around after toddlers or older kids and struggle to drink the recommended amount of water for your weight, height and caffeine intake (for every cup of coffee, you need to drink two cups of water)

How do I use Motherhood Hydration Powder?
Add 3g (1 tsp) of powder to 250ml of water. Stir or shake until completely dissolved. Then drink and enjoy. You can consume it multiple times a day due to the all-natural ingredients.
Why We Love
Tastes really refreshing without all the nasties of other favoured drinks. A great non-water alternative if you are having difficulty staying hydrated with purely water.
Ingredients
Coconut water powder 34% (coconut water concentrate, maltodextrin), red seaweed (Lithothamnion calcareum), berry juice powder 13% (tapioca maltodextrin, raspberry juice, strawberry juice, pomegranate juice, elderberry juice, blackcurrant juice, blueberry juice, cranberry juice, acai puree, goji juice), cranberry powder 8%, natural flavour, natural colour (beet red), acidity regulator (citric acid), ground ginger, acerola juice powder, natural sweetener (thaumatin)

Same Day Dispatch Before 12pm AEST
Buy Now Pay Later- Afterpay, Klarna, & Zip
Shipping & Customer Care
Fast shipping
We dispatch orders FAST! Orders before 12pm AEST are sent same day.
No nasty surprises. Shipping is $8.95 or $14.95 for express Australia wide.
Free Shipping for orders $150+
Local Pick Up Available from Belrose NSW 2085
Returns
We have a 30 day returns policy for unopened and unused products. Some exclusions do apply including personal care products such as breast pumps. Thank you for your understanding.
Get in touch
Have a question? We are happy to help!
Reach out to us Mon- Fri 8am-4pm.
Email: info@milkbarbreastpumps.com.au
Phone: 1300 781 275
About us
From our family to you
Established in 2015, we are an Australian family run small business committed to providing you with trusted and high quality products that support and nurture the special bond between mother and baby.
Your Go To Online Store
We carefully select products from trusted brands and only stock products good enough for own our families.
Items on our website are in stock. No drop shipping here. It's ready for us to bundle up and to ship directly from us to you.
Our Commitment
We are proud to support a number of charities who support mothers and their families as they transition into parenthood. We currently provide ongoing monthly support to the Gidget Foundation and Gunawirra.
Total 5 star reviews: 1
Total 4 star reviews: 0
Total 3 star reviews: 0
Total 2 star reviews: 0
Total 1 star reviews: 0
100%
would recommend this product
Delicious and nutritious!

This powder is delicious and really helped me increase my water intake and hydration. Feels like a treat but it's also good for you! Love it!
Reviews Loaded
Reviews Added
Join our Newsletter
Sign up to receive special offers & breastfeeding tips and stories from our community.