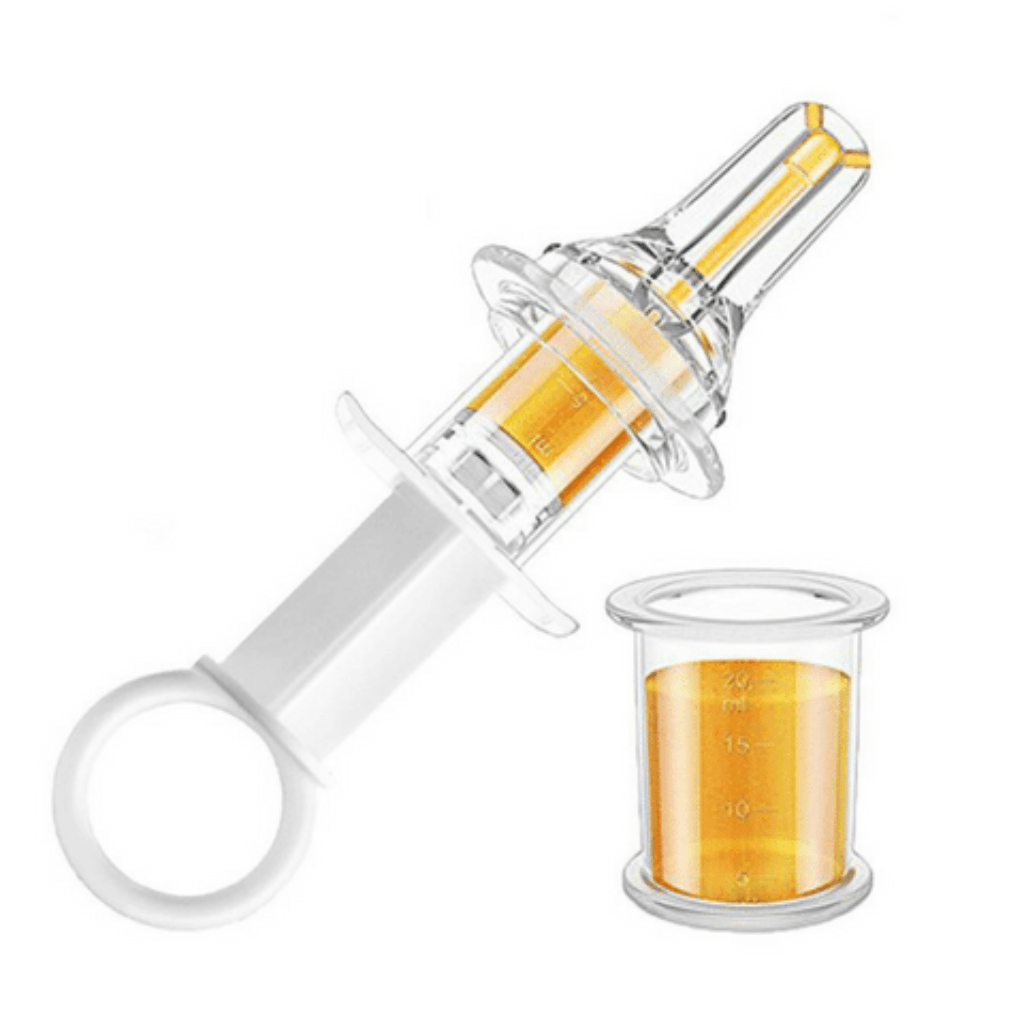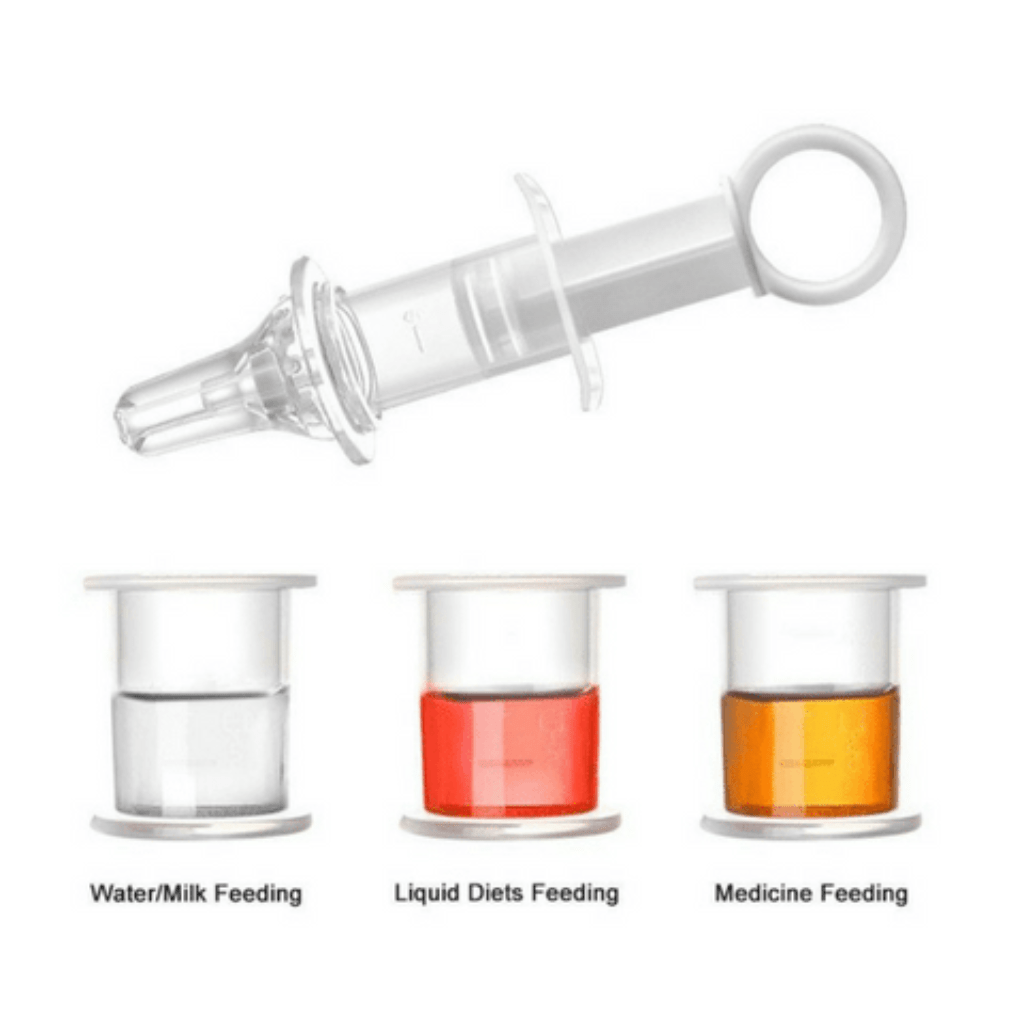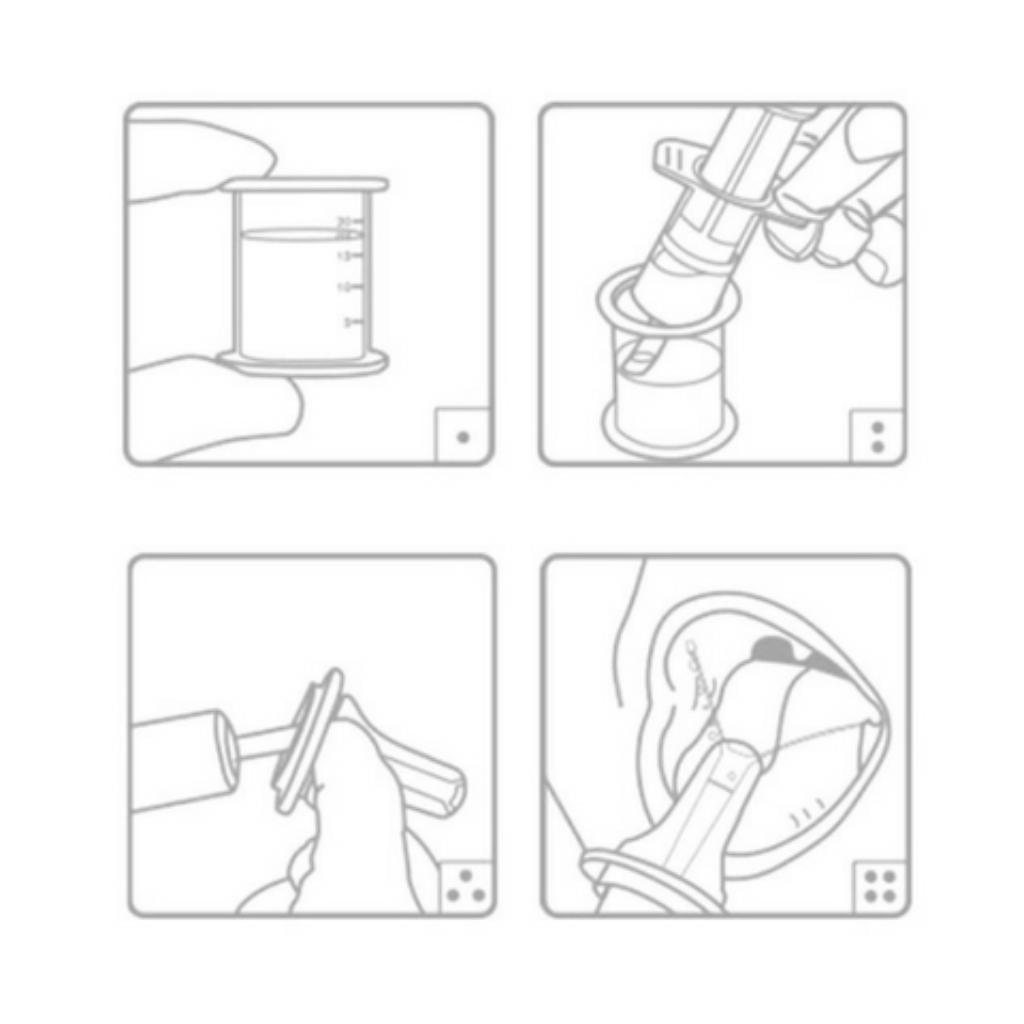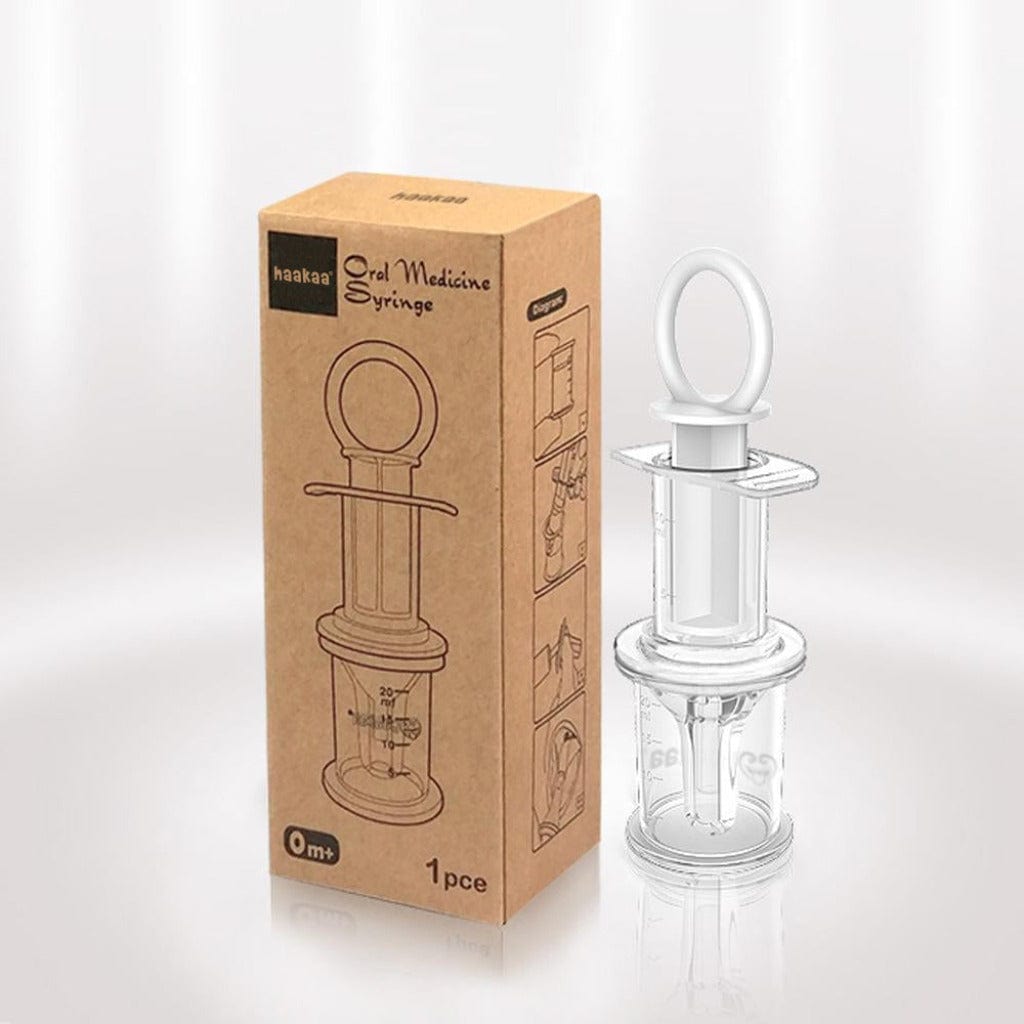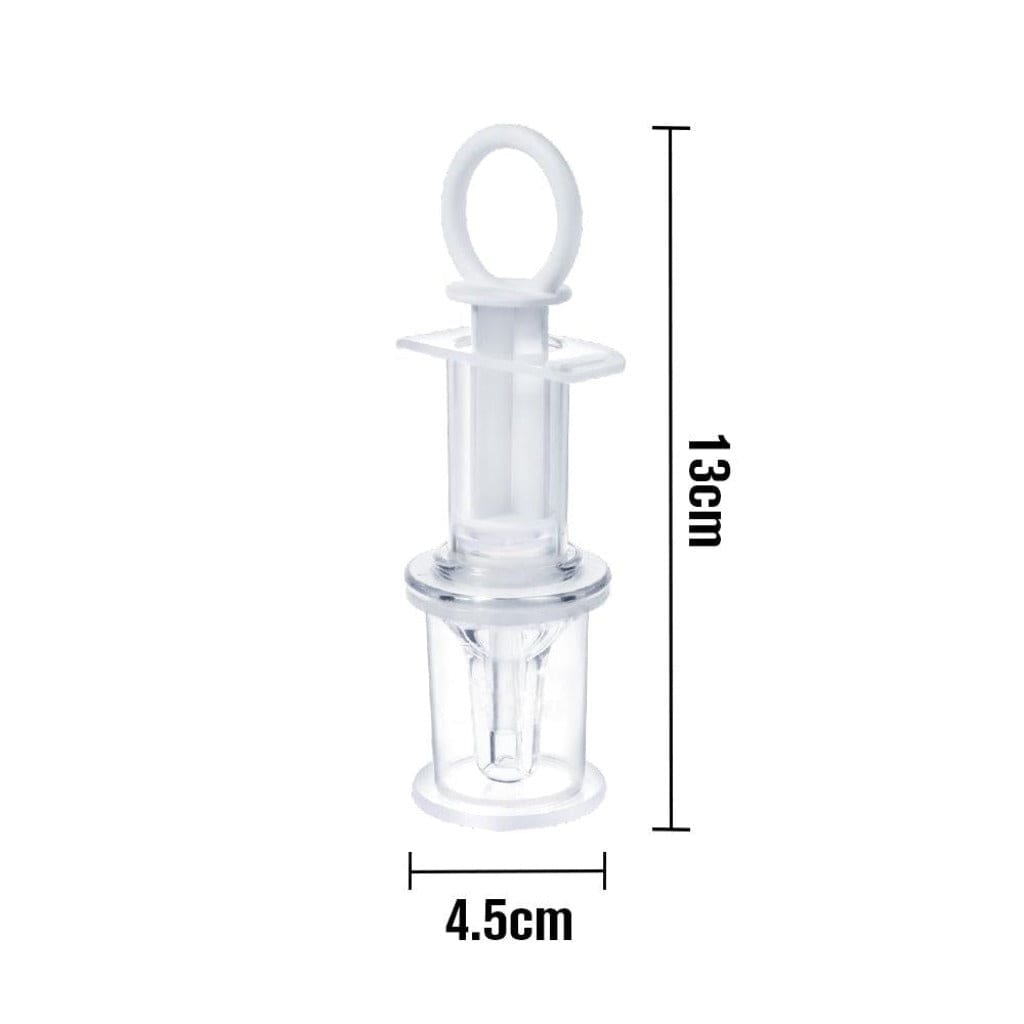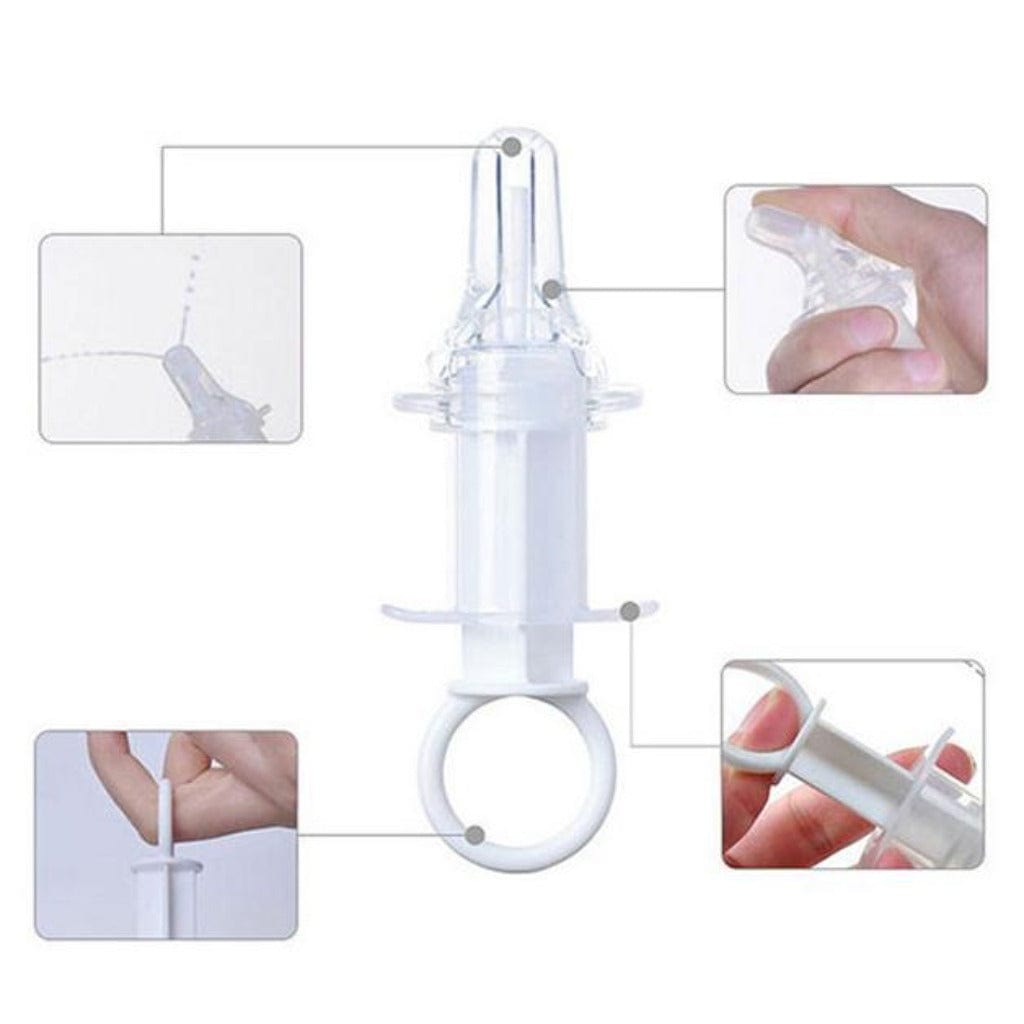 Haakaa Oral Feeding Syringe
Description
The Haakaa Oral Syringe is the perfect way to administer medicine, milk and liquid diets to premature or just plain fussy babies in a mess and waste-free way. The dual-angled ports on either side of the nipple shoot liquid into the sides of your little one's mouth instead of the back of their throat to greatly reduce the risk of choking!

When feeding a baby using a traditional syringe, you have to use a combination of the hard nib (which could damage your baby's delicate mouth) and your finger to make it work. The Haakaa Oral Syringe makes things easier by providing a soft silicone nipple for babies to suck on when they feed!
Features
Food grade silicone and non-toxic PP plastic
Dual angled ports in the nipple tip disperse medication sideways into your child's cheeks instead of the back of the throat
Soft, pacifier-style teat
Pacifier-style shield to make it safer to use
Clearly marked measuring bar ensures accurate measurements
The Haakaa Oral Feeding Syringe measures liquids in 5ml increments
10ml syringe capacity, 20ml cap capacity
Comes apart for easy cleaning
Care Instructions
Wash before and after each use. Although dishwasher safe, we recommend hand washing in warm soapy water and rinsing and drying thoroughly. Do not use any bleach-based cleaners or tablets to sterilise or clean your Haakaa products. To sterilise, use a steam steriliser or boil in water for 2-3 minutes.

Caution: Check product condition regularly. Replace if this product shows any signs of damage. Do not store near any sharp objects. Only soft bristle brushes or soft sponges should be used to clean this product as harsh scourers may scratch the surface. Store product in a cool dry place and avoid direct sunlight. Adult supervision is required.
FAQs
How do I use the syringe?

Measure the proper dose of medicine into the syringe, then double check the amount
Position your child in your lap facing away from you. Introduce syringe into his/her mouth and after your baby starts to suck, slowly push the syringe plunger in.
Same Day Dispatch Before 12pm AEST
Buy Now Pay Later- Afterpay, Klarna, & Zip
Shipping & Customer Care
Fast shipping
We dispatch orders FAST! Orders before 12pm AEST are sent same day.
No nasty surprises. Shipping is $8.95 or $14.95 for express Australia wide.
Free Shipping for orders $150+
Local Pick Up Available from Belrose NSW 2085
Returns
We have a 30 day returns policy for unopened and unused products. Some exclusions do apply including personal care products such as breast pumps. Thank you for your understanding.
Get in touch
Have a question? We are happy to help!
Reach out to us Mon- Fri 8am-4pm.
Email: info@milkbarbreastpumps.com.au
Phone: 1300 781 275
About us
From our family to you
Established in 2015, we are an Australian family run small business committed to providing you with trusted and high quality products that support and nurture the special bond between mother and baby.
Your Go To Online Store
We carefully select products from trusted brands and only stock products good enough for own our families.
Items on our website are in stock. No drop shipping here. It's ready for us to bundle up and to ship directly from us to you.
Our Commitment
We are proud to support a number of charities who support mothers and their families as they transition into parenthood. We currently provide ongoing monthly support to the Gidget Foundation and Gunawirra.
Total 5 star reviews: 14
Total 4 star reviews: 5
Total 3 star reviews: 2
Total 2 star reviews: 0
Total 1 star reviews: 1
86%
would recommend this product
I do not recommend this product

Disappointed

I was looking forward to this product because of the good reviews however it has been disappointing. I can't even suction up any liquid as the plunger comes out of the syringe really easily. I also find it really hard to pull the silicone cap off and put it back on. Unfortunately a waste of money and will happily stick to the medical syringes.

MB

Milkbar Breastpumps

1 month ago

Hi Katherine,
Thank you for taking the time to leave your honest feedback on our Haakaa Oral Feeding Syringe.
Our customer service team are always available if you are looking for any tips & tricks to get the most out of your products. You are welcome to send us an email at info@milkbarbreastpumps.com.au and our friendly team members will be more than happy to help!
MB x

Absolute life saver. Wish I could give it 500 stars.

This thing was crafted by wizards and fairies and gifted to us mere mortals. I'm going to start a new religion based around praising this product. If your baby doesn't like taking medicine then buy this product. Add it to cart right now.

My baby HATED medicine. We switched from disgusting Panadol to delicious tasting Dymadon and Neurofen and it made by different. Absolutely traumatic every time. He'd kick and scream. We'd have to hold him down. He's try to spit it out. He'd refused to swallow and almost choke on it instead because he was screaming so hard. But without it he couldn't sleep for teething. It was pure hell.

Then comes his product. It's soft enough that it doesn't hurt the back of his mouth so I can push it back far enough past his tongue so he can't spit it out. He LAUGHED because it tickled the back of his throat. He will now sit up happily and *open his mouth* in anticipation of the medicine. He chews and sucks on the end of it and smacks his lips after swallowing the medicine.

I give this product 3,000 stars. It's unbelievable.

Trouble pushing

We had trouble pushing out the breast milk slowly. We thought we had trouble with a reflux baby but we were still trying to work her out as first time parents. Will keep the three I ordered because I think it'll be great for medicine when older!

Wish we had this when my baby was a newborn

So much less spillage! Great for all different liquids

Feeding syringe

Amazing for collecting those small amounts that you dont want to lose and feeding bub with it
Reviews Loaded
Reviews Added
Join our Newsletter
Sign up to receive special offers & breastfeeding tips and stories from our community.